Welcome to The Department of Salad #2
You came back! How fabulous!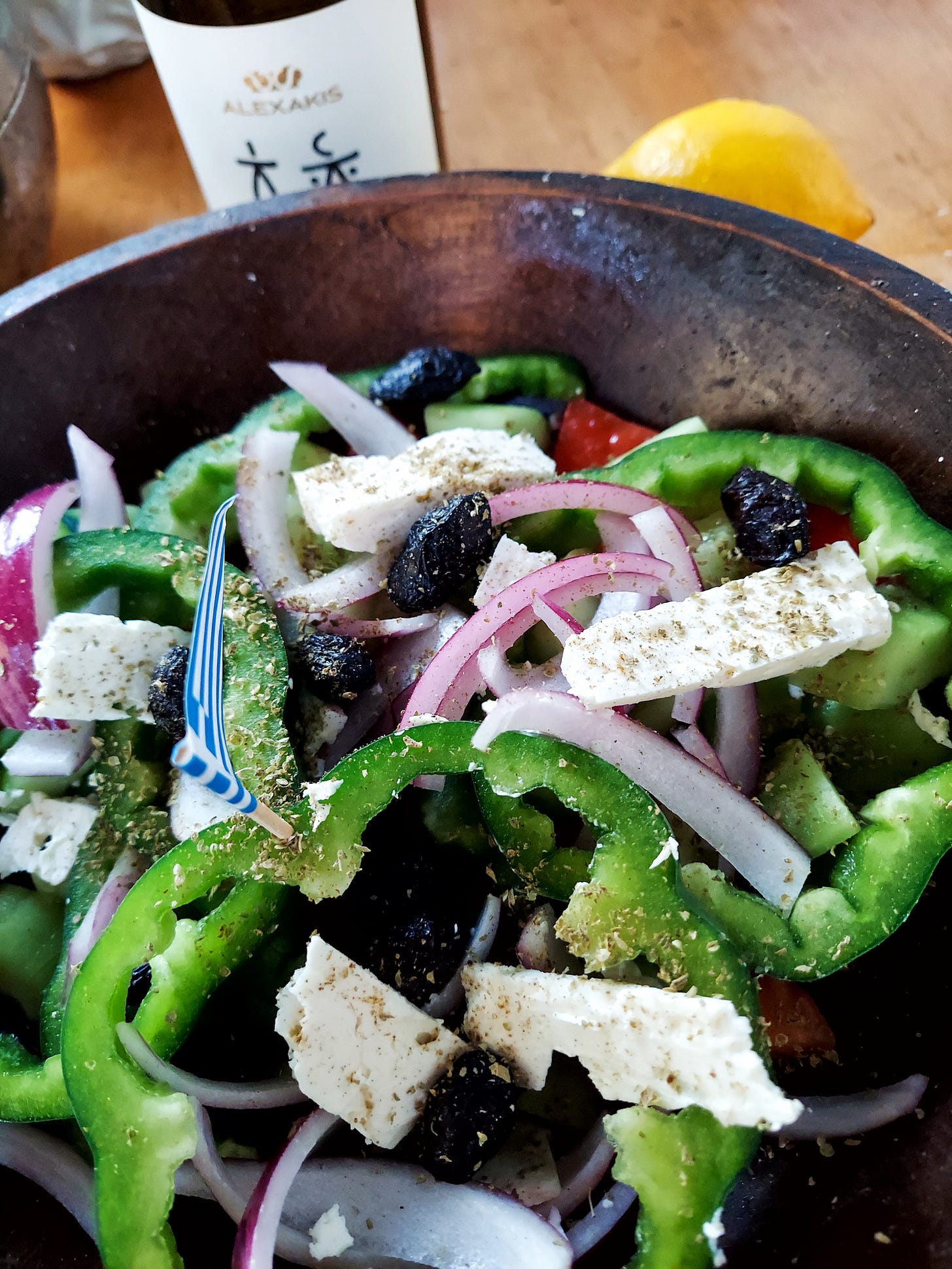 CHEF SALAD
TODAY IN CHEF SALAD: Mary Norris, author of "Between You and Me: Confessions of a Comma Queen" and "Greek to Me"
Back when I lived in NYC (in the late 80s, 90s, and early 00s), it often felt like every other person I went to lunch with near any of my offices (one in SoHo, the others in Midtown) eventually said to me, after we'd ridden down in the dim elevator and stepped out onto the sunlit sidewalks:  "You know what I'd really like? A nice big Greek salad." 
It seemed expansive—and somewhat hopeful. And I sometimes feel like I heard other people saying it to their lunchmates, too, over my shoulder. All over the city, echoing everywhere: a nice big Greek salad. 
But I do not remember ever eating a good one, nor do I recall the experience of sitting across from someone else eating a Greek salad who said: "Oh, yes. This is it. Perfect. Exactly what I wanted." I also never observed one that looked particularly appetizing. But every NYC diner and a lot of other restaurants offered the Greek salad. 
Greek salad everywhere, but not a bite to eat. 
I wondered if the lack of appeal could be attributed to Greek salad falling into what I think of broadly as the Crab Rangoon category: food created by immigrants as a means of satisfying white-bread tastes in America or devised by restaurant owners and chefs out of some notion or accommodating instinct about what slightly adventurous diners claimed they wanted versus what they would actually eat. Russian dressing, Chop Suey, Spaghetti and Meatballs. Egg Foo Yung. The taco salad. Swiss steak. I could go on.
So I checked in with Mary Norris, who was one of my first New York friends and remains one of my best and favorite, to make sure my perceptions about the Greek salad were correct. 
Here's why: when I moved to NYC, I worked at a new magazine called Wigwag, where Mary was a senior editor, having left the New Yorker magazine to start the new monthly venture with some other rebellious punks. You could say Mary took me under her wing—inasmuch as I ever allowed anyone to do so. Meaning, we drank after work with other friends at the Shark Bar (aka Spring Street Lounge, on Spring Street) and did impersonations of our boss.
Mary lived in Astoria, Queens, which had and still has a large Greek population and amazing Greek grocers and restaurants. She once took me out to her neighborhood to see the Christmas decorations. (This was the first time I'd ever seen a fig tree in a front yard, wrapped up in canvas for the winter, like a giant country ham.)
Afterward we ate in a Greek restaurant, but I sure as hell did not order a Greek salad.  I wanted the beautiful whole fish, quickly grilled with lemon and olive oil. Later, after Wigwag folded and Mary went back to the New Yorker, I ended up there, too, and we continued to dine together at other, more famous Greek spots in NYC, some of which I'd then write about for Tables for Two. In particular, I fondly recall time spent at Periyali, where we probably drank way too much ouzo but ate just enough charred octopus in red wine and never enough Taramosalata, Melitzanosalata, and Tzatziki. 
Maybe it was incurious of me, but I never thoroughly investigated Greek salad. I just ignored it. 
And even more incurious: I never asked Mary about Greek salad, or about Greece itself. Which was so lame of me, because by the time I met her she'd already begun an intense love affair with the country, studying its culture, history, and language while continuing to work at the New Yorker as one of the expert grammarians. And she travelled there quite a bit. 
I knew she had certain outside intellectual pursuits (she sang in a choral group, had performed in Greek theatre, was studying Italian with a group of editors at the magazine). But it really wasn't until I read her beautiful 2019 meditation/travelogue/memoir about the myth, language, and art of the country, "Greek to Me," that I realized the extent of her secret life. She had become an expert—a charming expert. In retrospect, it all seems a little sneaky to me, but never mind. 
Mary doesn't write about food much in this book, but when she does, it's not really about food at all, and it's gorgeous: "Nothing was quite what I expected. The light, the famous light, was not brighter than light anywhere else but softer, more delicate, like cream instead of milk, or real maple syrup tasted for the first time." You should read both of her books. 
(Here is a photo of Mary in her laurel wreath crown at the Parthenon in Nashville, where I met our mutual friends Susan and Nancy, to hear her read last year.)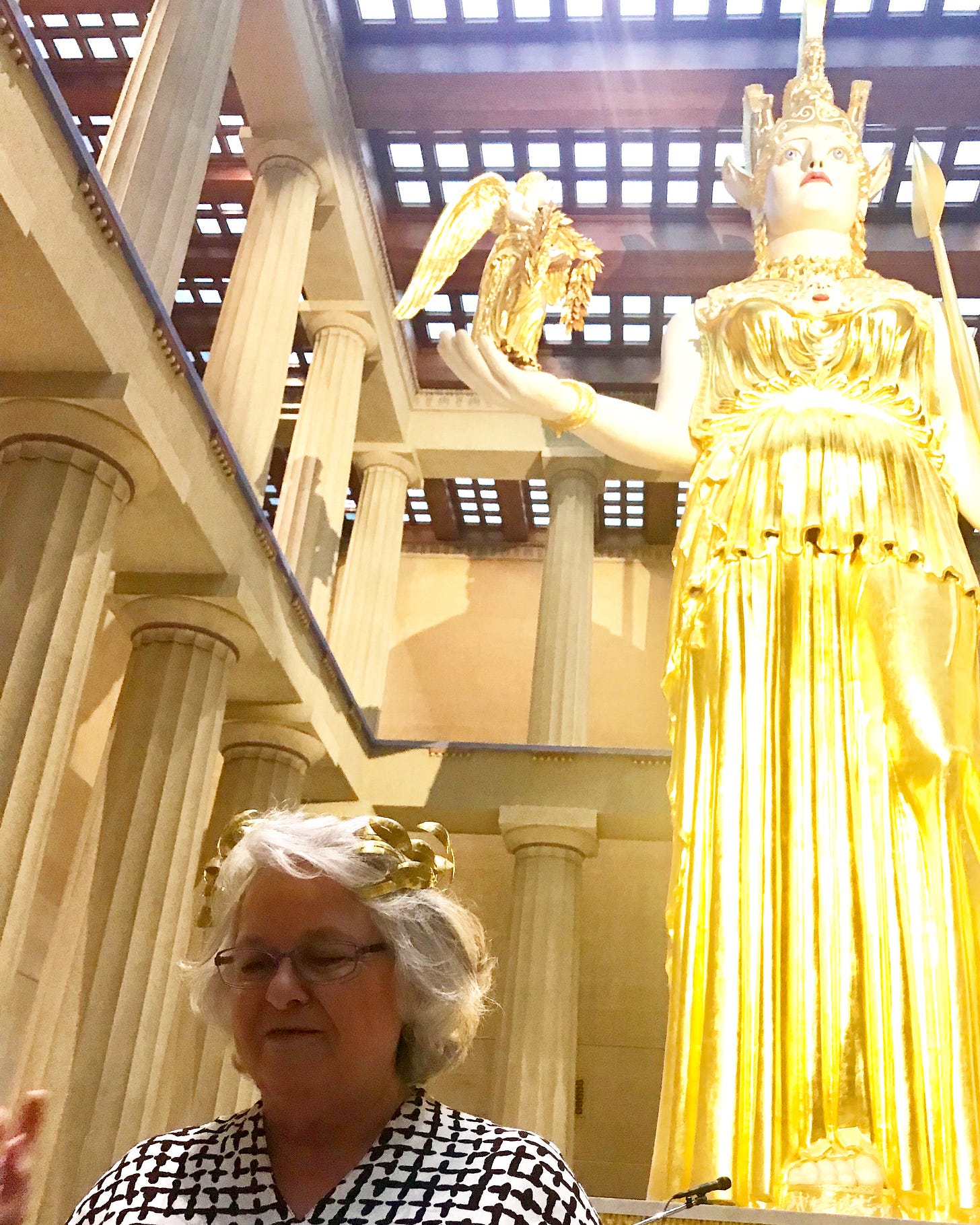 Anyway! After I had decided to dedicate my remaining years on this planet to salad, I was talking to Mary and mentioned this whole Greek Salad thing and asked her if she'd be in my newsletter. I should point out that long after I had gotten an agent and a publisher for my only book, Mary signed on with my agent and published her first book, "Between You and Me: Confessions of a Comma Queen," and had already started on a second one a full two years before mine even came out. So it didn't surprise me that the very next day she sent something she'd written about the Greek Salad, something charming, just like she is. 
SOME THOUGHTS ON GREEK SALAD, by Mary Norris
Some people like anchovies. Some people like chilled tomatoes. Some people can't tolerate feta cheese. I often forget the red onion. I like to peel the cucumbers and seed them by slicing them in half lengthwise twice and scooping out the seeds (a grapefruit spoon is perfect) before chopping them into segments. Tomatoes tend to be cut into chunks rather than wedges. Green pepper is cored and sliced carefully in cloverlike rings. No lettuce! What gives Greek salad a bad name is the pile of romaine or iceberg that forms a bed for a few tasteless tomatoes and rounds of cucumber and crumbles of feta and spiritless pitted olives from a California can. Some restaurants put pickled peppers in a Greek salad. I always shove those aside. It took me a while to figure out that pickled peppers are palatable when taken with a bite of cheese. Other establishments might bury a few stuffed grape leaves in a Greek salad. I would serve those separately (if at all). The sine qua non—the without which not—of a Greek salad is the olives, Greek olives, preferably Kalamatas, black and salty with the pits still in.  The feta should come in slabs, not crumbles. At Titan, a Greek grocery store in Astoria, a whole section of the cheese counter is devoted to feta: French feta (creamy), Bulgarian feta, feta from Thraki, feta from Dodoni (with its associations with the oracle of Zeus at Dodona). 
You know what else is good? Capers! What the fuck are capers, actually? Berries? Seeds? Just now I googled capers, and they are neither: they are flower buds from the caper bush. I have seen them on twigs gathered from Mt. Taygetos in a little organic store in the Mani. But you can do without the capers as well as the aforementioned anchovies. What you can't do without is oregano (which Julia Child lovably pronounced Oregon-o; in Greek it's rigáni). There is a special Greek oregano. This, too, comes on twigs. At Titan, I once asked for "oregano on a stick." You pinch the tip with one hand and strip off the leaves by running thumb and forefinger of the other hand down the stem. Then you crush the leaves between your palms to warm them up and bring out their fragrance and sprinkle them over the salad, giving it that special whiff of a Greek village.
In Greece, of course, there are other salads. I came late to the Daki salad, with barley husks soaked in the juice of the tomato. There is also prasini, which is all greens (prasino is Greek for green), and very refreshing with scallions in the spring. In Greece what we call Greek salad is horiatiki salata, from horos, or village; you put in whatever is ripe from the garden. Got radishes? Toss them in. I have a friend, a fellow philhellene, who likes to add a mound of chopped fresh parsley. Dill would be OK, too. What you don't add is basil. That's for Italians, for the insalata caprese, which is lovely but a whole different world. Greeks don't eat basil. In Greece, basil has religious significance: a bunch of tiny-leaved basil is used by Orthodox priests not to make pesto but to sprinkle holy water on the congregation. 
You can layer the salad any way you like. Years ago, I had a three-legged salad bowl/table: a low wooden tripod with a big bowl for a top. When I had a party, I'd make a huge Greek salad, dumping pounds of chopped tomatoes, loads of sliced cucumbers, rings of green pepper, shards of red onion, slabs of feta, and a pint of Kalamata olives into the bowl/table. My guests would gather round as I warmed the oregano between my palms and then, like a magician, unclasped my hands and added the final ingredient: salad as performance art. Dressing is simple: a generous pour of olive oil and a squeeze of fresh lemon or a drop of vinegar (but not balsamic—it's overpowering). Salt is supplied by the feta and the olives. Black pepper is good. At the time I also had giant salad utensils to mix the whole thing together. Oríste, as the Greeks say. Voilà!
A Greek salad can be a full meal. It's got your vegetables, your protein (the feta), and your healthy fat (olive oil). As a side dish, you can have some tzatziki—the yogurt-cucumber-garlic dip—with grilled pita bread and a glass of Assyrtiko, a minerally white wine from Santorini. And then you weep because when you go outside you're not in Greece.
You don't need a recipe to make Greek salad, but in the spirit of thoroughness, I looked up horiatikisalata in a few Greek cookbooks. You might be interested in a variation that includes fried okra. I would not. 
I just remembered that I have some tomatoes and a green pepper and a few chewy olives from Thraki (a gift from Greeks) and a little feta cheese (it keeps well if you keep it moist) in the refrigerator. I even have most of a red onion. All I need is a cucumber. Excuse me, I'm going to the store. I want to make a Greek salad for lunch.
*RECIPE: A Real Greek Salad for 6, adapted from Olive and Caper, by Susanna Hoffman and My Greek Table, by Diane Kochilas
3 medium juicy, ripe, firm tomatoes, cut into wedges then in half to make nice chunks (try to retain the juices by cutting over a bowl)

1 small red onion, cut in half and sliced into thin half rounds

2 small or 1 large green bell pepper, cored, seeded, and cut into thin ringlets

1 large firm cucumber, peeled or not, seeded, and cut into chunks

Salt, to taste

12-24 Kalamata olives

1 Tablespoon capers (optional)

4 to 6 ounces good Feta, Greek if you have it, sliced or in single chunk

Lemon juice or red wine vinegar (a tablespoon or so, to taste; optional)

2 Teaspoons dried Greek oregano

6-8 Tablespoons extra virgin olive oil, Greek if you have it
Place the tomatoes and their juices in the bowl, followed by onion, peppers, and cucumber. Season with salt to taste. Add the olives and then place the feta on top (in slices or a whole piece). Add the capers if using. Sprinkle with the olive oil and oregano, to taste. Toss and serve.
BOOKS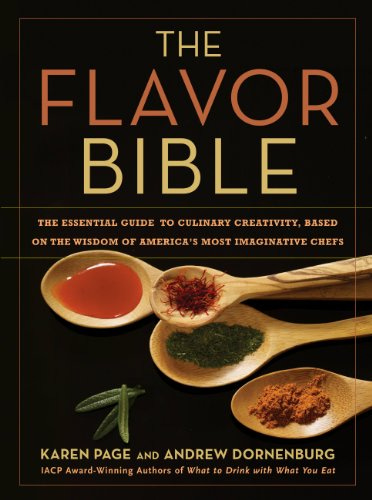 IF YOU DON'T HAVE A COPY of Andrew Dornenburg and Karen Page's book "The Flavor Bible," which has been around since 2008, I strongly suggest you get one. After all, we're living through a time in which the most creative and delicious food we're eating is probably coming out of our own kitchens, so why not stretch a little bit, even if it's under duress?
Once I had a copy, I found that I was not necessarily a better cook but a better creative cook, if that makes sense. But how can one book make you a more creative cook? 
"The Flavor Bible" is a magical catalogue that classifies how things taste and then helps you understand and identify the ways those flavors go together. So that you can be a better cook, with fewer misfires. 
For instance, when I was making the fall salad in this issue of The Department of Salad, I knew I wanted it to have delicata squash. So rather than devising something incorporating, say, boiled delicata and deep fried fennel (that probably wouldn't be all that bad) I did a search on  "winter squash" in my Kindle version of the book and it turned me on to the essence of the vegetable—in terms of season (autumn-winter), weight (medium-heavy), volume (moderate), and techniques (bake, braise, grill, mash, puree, roast, sauté, steam). 
And then came a nice long list of complementary foods that are compatible with winter squash, with the biggest bullseyes in boldface type. I chose a few that appealed to me most and incorporated them into my dish.
For instance: Apple was in boldface, so was cheese (although not the blue cheese I used; I was willing to risk that anything I put blue cheese on I'd eat), garlic was there, honey, onions, flat-leaf parsley, radicchio, rosemary, and vinegar? Check, check, check, check. I used them all. And it gave me confidence as I created and re-tinkered the dish.
I started using this book years ago, and one dish that leaned on it heavily became a very popular winner of Your Best Maple Recipe on Food52, my Matilda, Maple, and Garlic Pork Shoulder. Definitely not a salad. Definitely delicious, and it makes great leftovers as a sandwich with the Pickled Red Onions I'm showing you how to make in this issue.  
So, give it a shot! It's the kind of book I like to lounge on the couch with whenever I need ideas.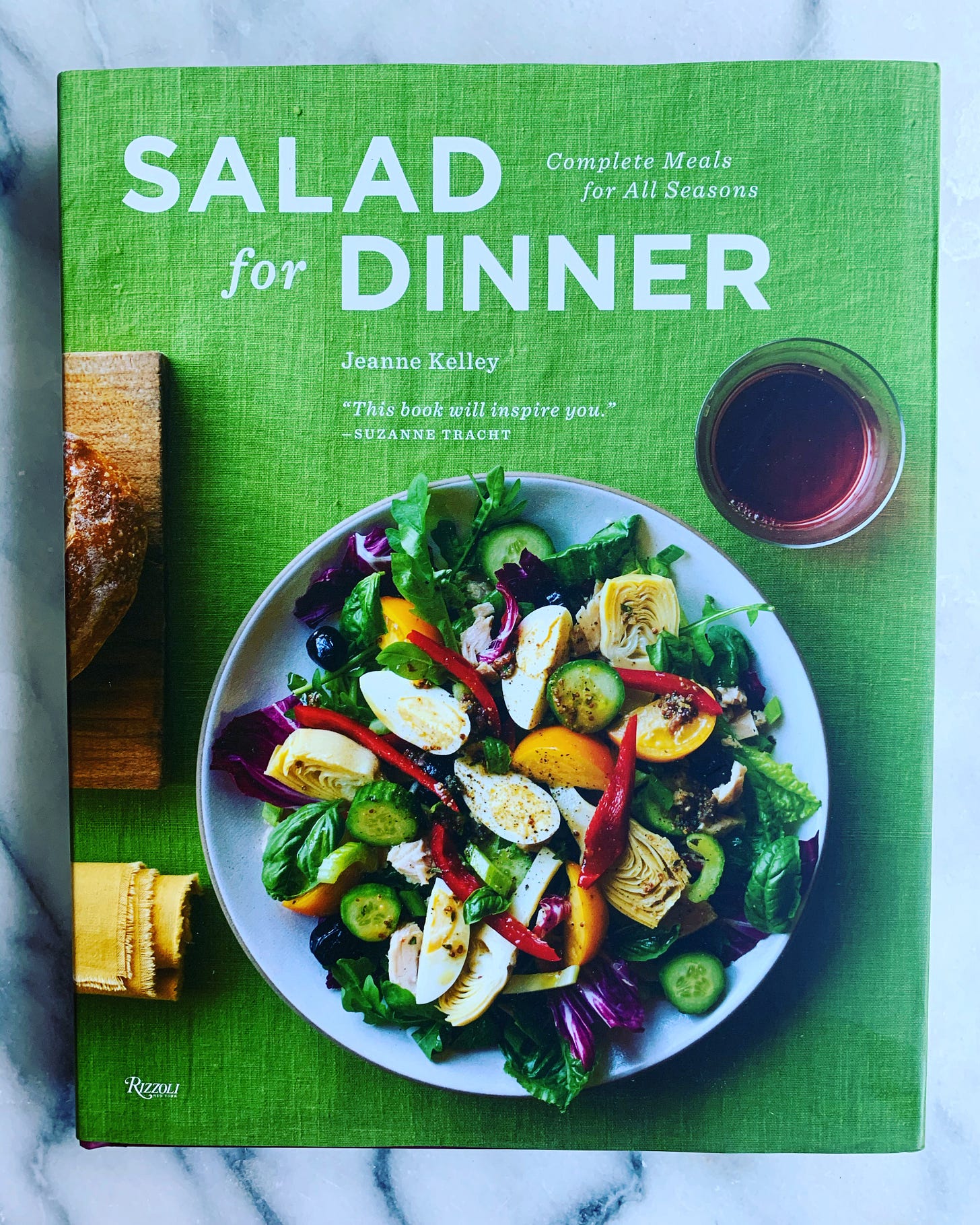 Another book that I'm very interested in arrived in the mail just yesterday, unbidden. Salads just come to me! It's a 2012 cookbook called Salad for Dinner: Complete Meals for All Seasons (I love it already), by Jeanne Kelley. I'll be checking it out and reporting back on it soon. 
TEST KITCHEN
SO ABOUT THAT FALL SALAD I mentioned above. . .
*RECIPE: The Most Autumnal Goddam Salad You'll Ever Eat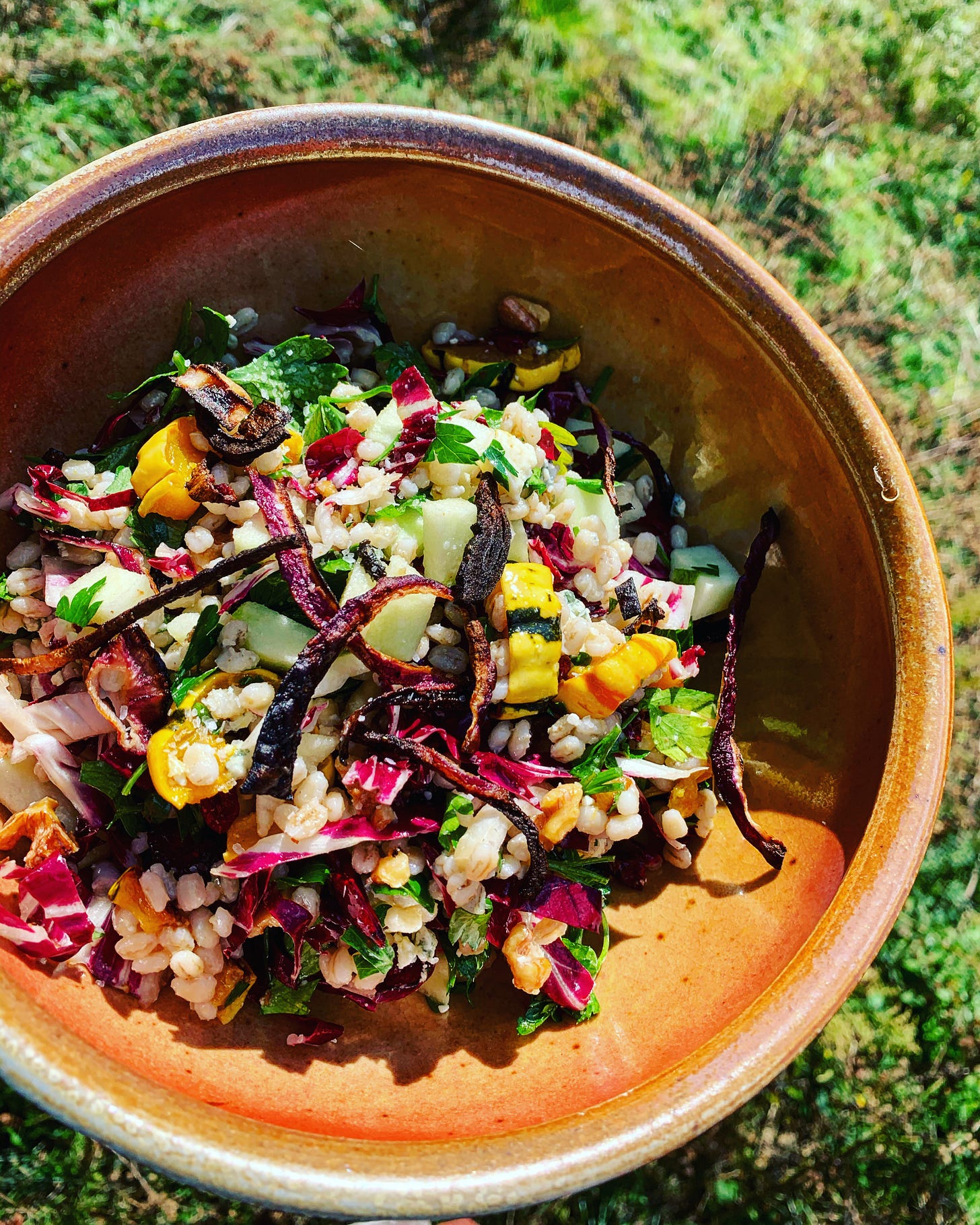 Serves 4
The autumn leaves in the mountains of North Carolina (which is where I live, in a converted horse barn) are losing their freaking minds this year. It's absolutely insane. The colors—red! orange! yellow! pale green! crimson!—are just overwhelming.
Nature is having a last hurrah before going dormant, and that seems to throw every element of its collective beauty into high relief. Plus, it smells wonderful.
It's so gorgeous here in the fall that practically every time I step out the door for a walk or to go to the grocery store, I yell, Oh, my god! And I take about 50 photos, just in case it never happens again, this miracle. I worry—we all worry these days—about the possibility of losing so many things I take for granted, even if they've been around forever. 
In addition to the Ziegfeld Girl show-offy leaves, my area is particularly stimulating because of  the variety of trees. Our biodiversity is extravagant: we have more old growth forests than any other southern Appalachian state, more species of plants than in any other area of our size in all of North America—a documented 4,000 species—along with 2,000 species of fungi and 500 species of mosses and lichens. We also sport more types of salamanders than anywhere else in the entire world, but I never see them. I have not seen a single salamander since I moved to the barn four years ago. It's fine. Whatever.
I wanted a salad to match our local autumn explosion. One that had bright colors and a diversity of textures and flavors—one that made me yell Oh, my god! A salad that had everything I could want and then a big handful more. Because, honestly, who knows how long any of us will live. This is no time to be parsimonious. 
This is a big mess of salad that would make a perfect supper for several people with a nice soup. (I'll be giving you great soups for these kinds of suppers in future issues.) 
You can use farro or barley, but I have to admit that after years as a dedicated farro eater, I bought some good organic pearled barley and I may be switching teams. (I took a casual poll on Twitter, and it seems that people are pretty evenly divided on their preferences.)
You can tailor it to your personal taste, of course. Think of it as a salad outline. I served mine with extra burnt onions (recipe below*). But try not to mess too much with the balance of sweet, bitter, salty, chewy, crunchy, earthy, smoky, and green that this salad throws at you, outrageously, like Autumn in North Carolina.
Note: If you're feeling fancy, sprinkle this salad with beautiful pomegranate seeds. I bought one for that reason, but I felt like I'd gone far enough.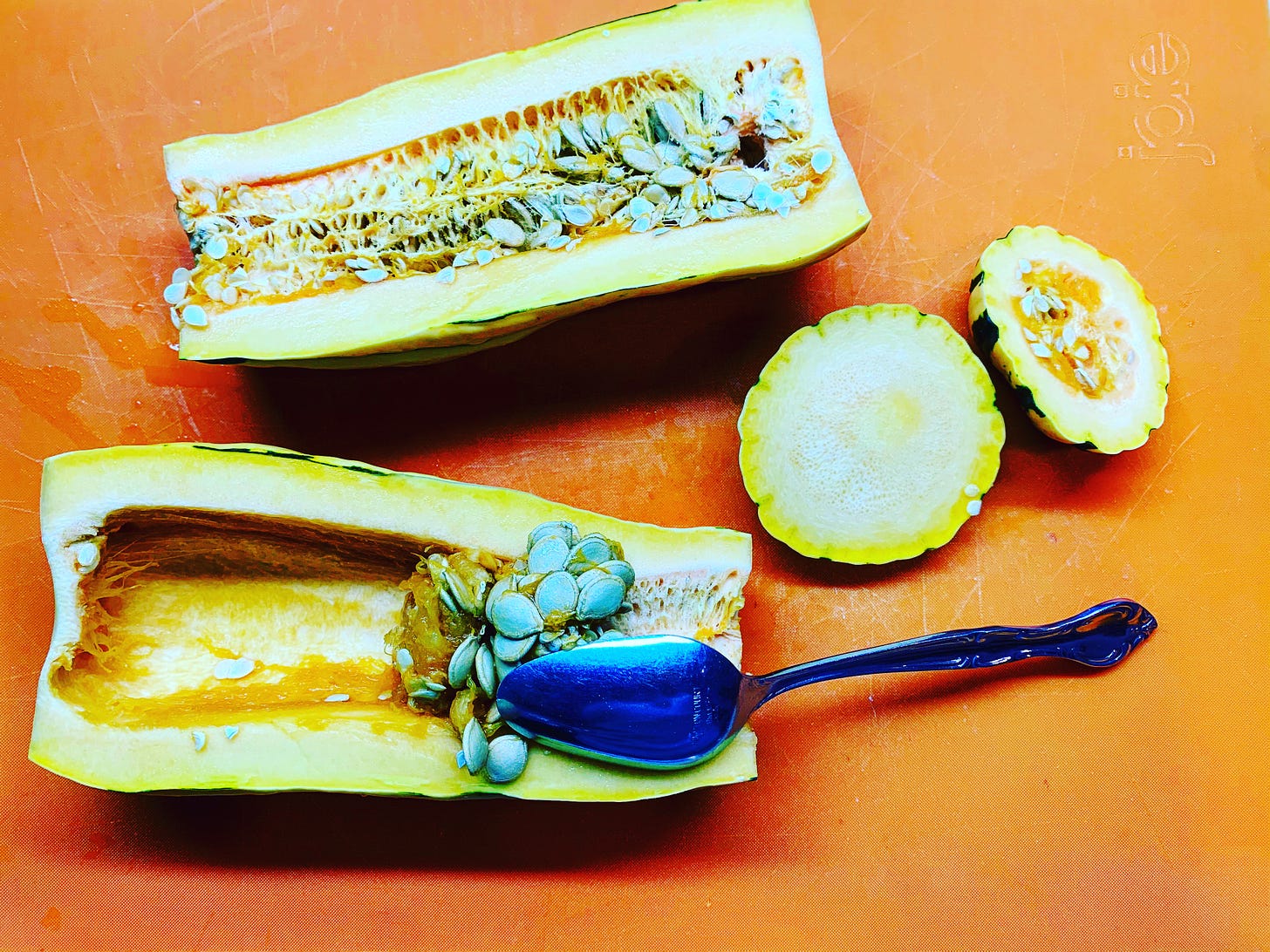 1 cup of uncooked pearled barley (or farro)

1 medium delicata squash

Olive oil

Salt and pepper

1 Tsp rubbed sage (or a branch of rosemary)

Burnt onions (instructions below), a good handful to taste

1/2 cup crumbled blue cheese

1 ½ cups roughly chopped flat-leaf parsley

1 cup shaved radicchio (cut it in half, then slice thinly crosswise)

1/2 cup chopped toasted walnuts (place them on a baking sheet at 350 for about 10 minutes, watching to make sure they don't burn, then chop)

1/2 cup dried cranberries

1 Granny Smith apple, peeled and chopped

Lemony Apple Cider Mustard Vinaigrette (*recipe below)
Bring the barley to a boil in 3 cups of water, then lower heat and cook for about 40 minutes, until tender and water has been absorbed (drain it if necessary). Set aside to cool. 

Preheat oven to 400. Scrub your squash then cut it lengthwise down the middle. Take a spoon and scoop out the seeds, then slice crosswise in ½ inch pieces (or thicker if you like). Place the pieces in a bowl and drizzle with a tiny bit of olive oil, just enough to moisten (barely a teaspoon), then the sage and a bit of salt and pepper. If you're using the rosemary: toss pieces of it in there, then remove the branches before using in salad.

Spread the squash pieces evenly on a baking sheet and roast for 10-15minutes or until bottom sides begin to get brown (I like mine pretty dark), then flip them over and roast a bit longer—five to seven minutes. Let them cool. You can leave them as half circles, because they're pretty that way, or slice them in half again for more even squash distribution throughout the salad. 

To assemble, place the farro in a large bowl; add a few tablespoons of dressing and toss. Then top with the remaining ingredients, reserving some of the burnt onions for garnish, and gently toss again. Taste for seasonings; you will probably need another ¼ of a cup of the dressing. If you want a tarter salad, squeeze a bit more lemon over it and toss some more. Serve topped with more burnt onions, if desired, or pomegranate seeds.
*RECIPE: Lemony Apple Cider Vinaigrette with Dijon Mustard
In a jar, stir together 5 tablespoons olive oil, 1 tablespoon Dijon mustard, 3 tablespoons cider vinegar, zest of ½ lemon, a good squeeze of fresh lemon juice, 2 tablespoon honey or maple syrup, 1/2 teaspoon salt, freshly ground black pepper, pinch of cayenne. Place the lid on the jar, and shake vigorously, until emulsified. Taste and correct seasoning.
*RECIPE: Burnt Onions
Some people like "frizzled" onions. I like them almost carcinogenic. If you do it my way, you end up with some crunchy smoky bits and some lovely chewy ones. I make these as I need them.
1 medium red onion, cut in half lengthwise then sliced crosswise into thin (about 1/4 to 1/2 inch) half moons 

1 Tbs or less olive oil (you're coating, not drowning)

Salt and pepper

Preheat oven to 400. Place all the ingredients in a bowl and toss until evenly coated. Spread on a cookie sheet lined with parchment or foil and roast until they begin to blacken, moving them around a bit and watching closely to prevent total incineration; there's a thin line between "burnt" and inedible.
*RECIPE: Quick Pickled Red Onions 
These are lovely on salads and in grilled sandwiches.
1 cup cider vinegar

1⁄2 Tsp sugar

1⁄2 Tsp salt

1 medium red onion, cut in half lengthwise then sliced crosswise into thin half moons 
Heat the vinegar in a saucepan until it begins to bubble, then stir in the sugar and salt until dissolved. Place the onions in a colander or a large strainer over a large bowl. Slowly pour the hot vinegar mixture over the onions, reserving the vinegar. Repeat with the vinegar from the bowl. Place the par-blanched onions in a jar with the remaining vinegar mixture and refrigerate. 
Both of these onion recipes are part of a brochure of bean recipes, including some delicious bean salads, that I did for the wonderful Steve Sando, of Rancho Gordo. Take a look/download here.
FACING OUR FEARS IN THE KITCHEN
Since we're getting so close to Halloween, it seems like a good time to face our fears head-on. I'm afraid of my new mandoline, a razor sharp device for cutting fruits and vegetables into thin, even slices—which I bought because I thought it would improve my salad game and wanted to test it out for you. A lot of you seem to be afraid of mayonnaise. 
Let's start with my fears first, since this is my "newsletter." I'm afraid of this device because any time I mention it, I am rewarded with gore, however subtle.
When I Googled how to use it, Martha Stewart scared the hell out of me. And not just because of her monotone spookhouse narration, which naturally leads one to ominous thoughts, but because the instructions explicitly mentioned "keeping your digits intact" and wearing a cut-resistant glove "so you'll still be able to count to five after using your mandoline" Hardy fucking har.
But the real bloodbath didn't begin until I mentioned my fears on Twitter, and had people instruct me to find the tip of my finger and press it back on and that sort of thing—as if losing a piece of my body was a given. Check out this parade of blood and guts here and here.
So suffice it to say, I'm having doubts about what I really need and don't need in my absurdly spartan kitchen. And I'm going to be talking more in-depth about that next week: What do we need, and what are we purchasing as an attempt to fill the giant empty hole that eats into our souls as the pandemic wears on? Until then, my mandoline, which is—slyly!— as colorful and alluring as a box of children's crayons, still sits unopened on my kitchen counter, like a monster under my bed.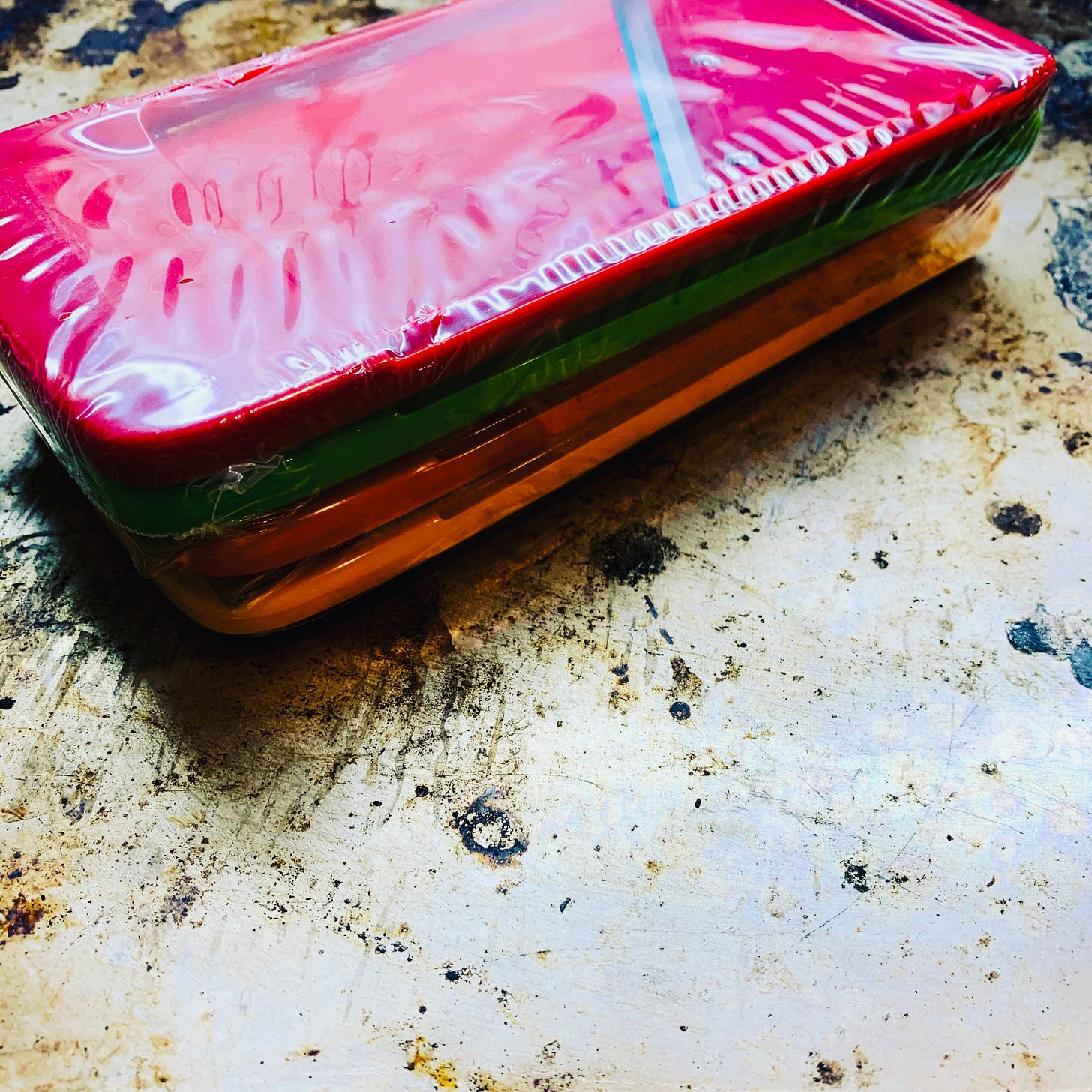 Now, your fears: Mayonnaise! Some of us love it. But the people who hate it really really hate it.
I hear it's a texture thing, again and again. But I also think that has a little bit to do with the fact that commercial mayonnaise has a texture that doesn't match its flavor. It feels like something that should be sweet—pudding?—and therefore it's a surprise, in a bad way. Expectations and revulsion are tightly entwined. 
People seem to believe that mayonnaise is dangerous. I once took the world's greatest dip to a party and a woman asked me what was in it. Artichokes, parmesan cheese, mayonnaise, I said. Her mouth was a sudden O, and she turned to her husband and said: Don't eat the artichoke dip. With me standing right there.
People also seem to forget that so many things they love have the exact same ingredients—egg and oil—cooked into them. And the idea that commercial mayonnaise is somehow hazardous has long been debunked. In fact, you don't even have to keep it in the fridge, according to this article (I'm going to anyway.)
Another huge thing that people forget: some of their favorite salad dressings—like Thousand Island and Ranch—are mayo based.
I'm not crazy about Ranch, unless it's homemade, and when I do make it I want it with homemade mayonnaise, which is the easiest thing in the world, as you'll see below. But be warned: with no preservatives or stabilizers, you can only keep it for 3-4 days, refrigerated.
*RECIPE: Beatrice's Blender Mayo
This is a recipe I asked my grandmother Beatrice to write down for me many years ago, when she was still alive—and I've written about it a million times. Memories attached to it, still on the crummy piece of paper she wrote it on, in pencil, brings her rushing back to me blahbedy blah blah. 
1 egg

1/2 teaspoon dry mustard

1/2 teaspoon salt

2 tablespoons cider vinegar

1 cup of corn or canola oil
Break egg in blender and add salt, mustard, vinegar, and 1/4 cup of oil. Cover and turn blender on low speed. Immediately uncover, with blender on, and pour remaining oil in slow steady stream. Turn off motor and stir. Turn on blender again, briefly.
Be sure blender is dry when you start. Make sure the eggs are super-fresh. You can add garlic to make aioli, or soft herbs. Don't keep it longer than a few days in the fridge.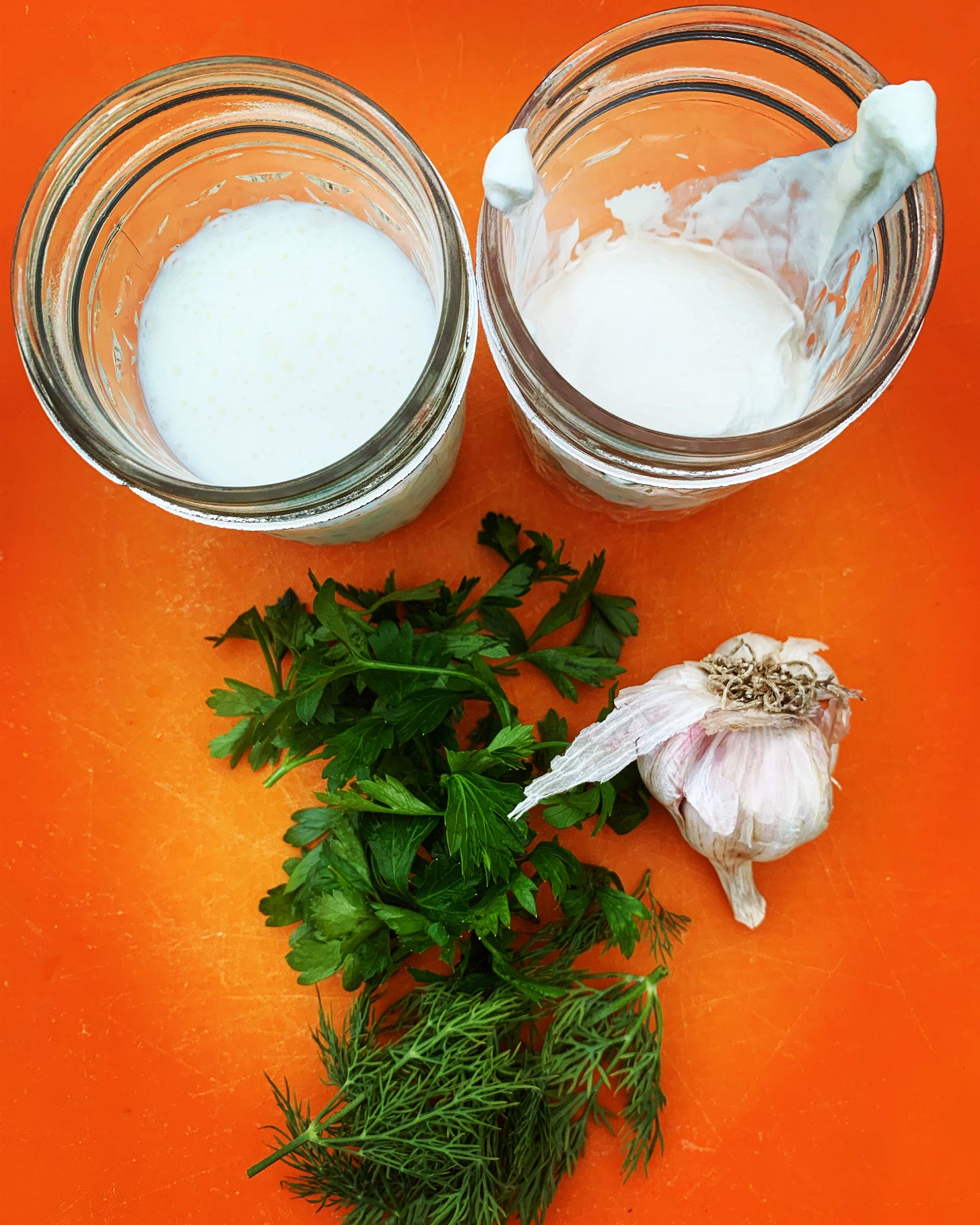 Barn Ranch (for a Wedge)
2 cloves of garlic

1 tsp salt 

½ cup sour cream

½ cup buttermilk

¼ cup homemade mayonnaise

1 Tsp fresh lemon juice

Freshly ground black pepper to taste

Dash of Tabasco

½ Tsp Worcestershire sauce

2 Tbs chopped fresh chives

2 Tbs chopped fresh dill

½ cup finely chopped fresh parsley 
Chop the garlic roughly then mash it together with the salt using a mortar and pestle or the back of a spoon in a small bowl—until it makes a paste. Place the paste in a bowl and then whisk in the remining ingredients. Taste for salt. Chill. 
Now, cut a nice big wedge of cold iceberg lettuce, place it on a plate (do it cut side up so the dressing becomes one with the lettuce) and drizzle way too much Ranch over it, attractively. Give that a good grind of pepper, sprinkle on some chopped chives. So refreshing!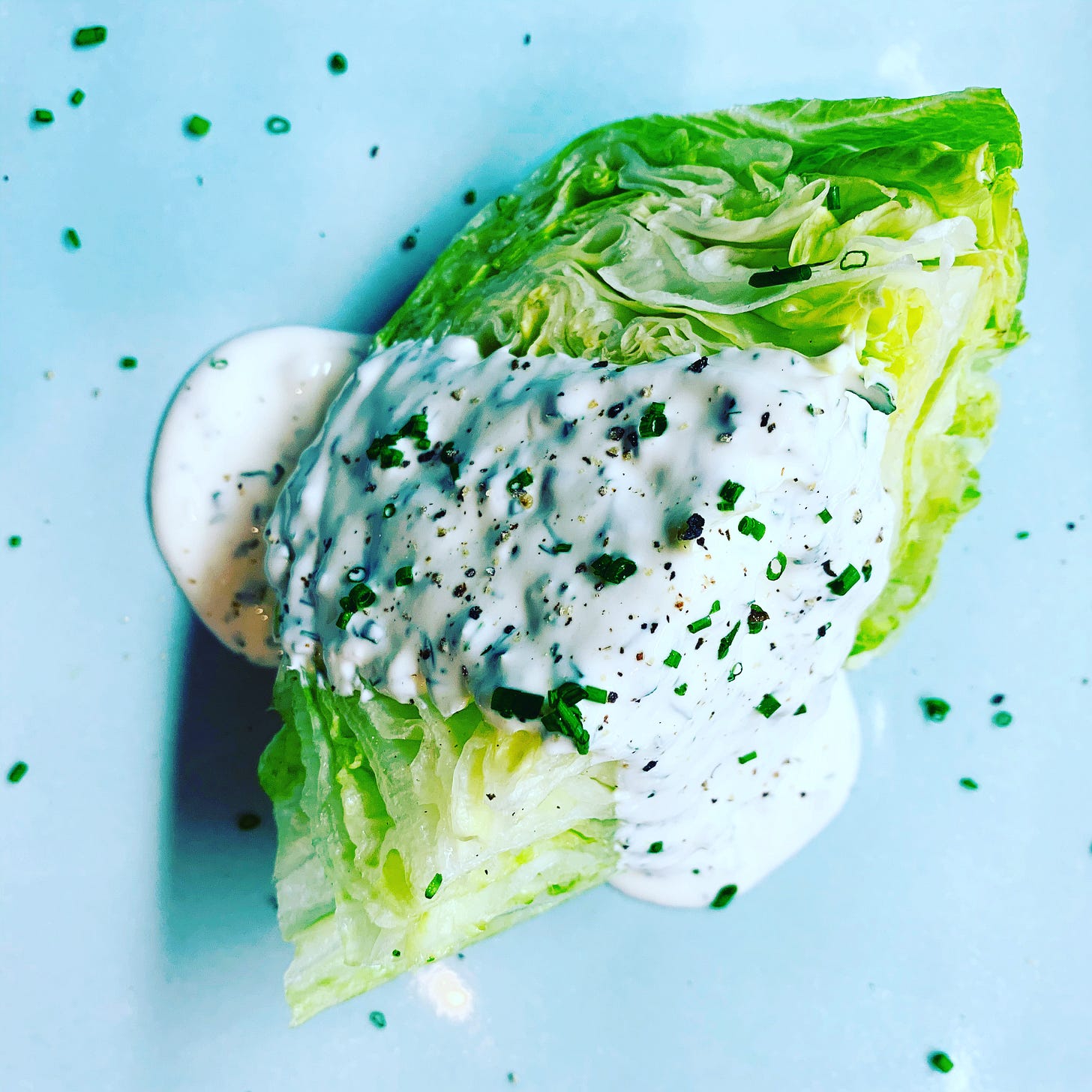 ONE MORE THING! Last week, I told you we were going to talk about whether a baked potato can be a salad. It can, but Substack is telling me I'm reaching my word limit. So I'll wait on that.
See you next week! And sign up for future issues using the button below:
---