CHEF SALAD: Phyllis Grant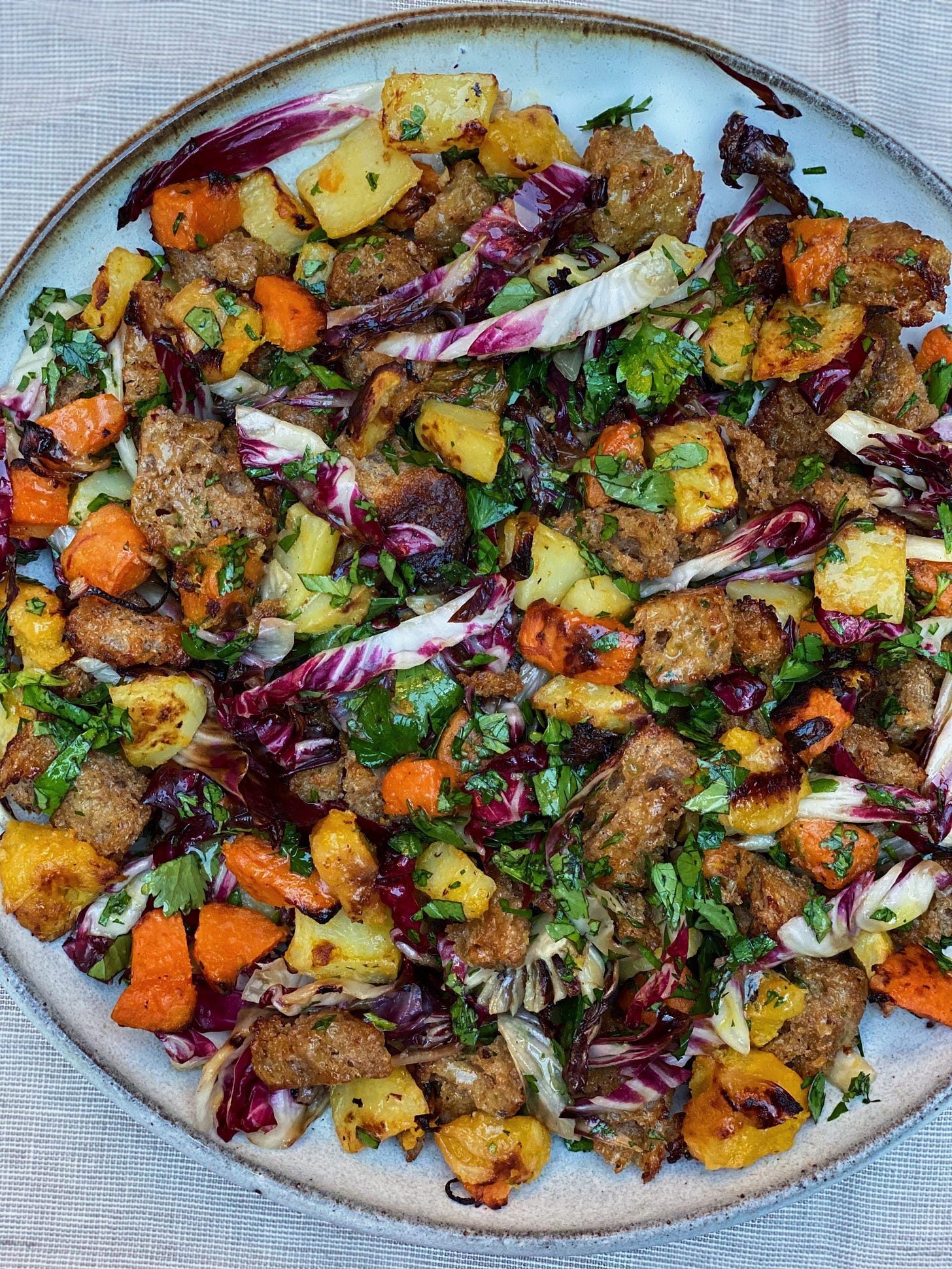 (photo by Phyllis Grant)
PHYLLIS GRANT'S BEAUTIFUL, COMPACT MEMOIR with recipes, "Everything Is Under Control," has been called a book about appetites. Which is true both literally and figuratively. It gracefully excavates not just a yearning for food but also our appetites in life—the stages and transitions in which one moves passionately toward a person or thing, turns away, moves on to something else, or even back again, maybe for the long haul.
In Grant's case: she left California to train as a dancer at the Juilliard School, then became a self-trained pastry chef and garde-manger, a writing student at Columbia University, a yoga teacher, a wife, a Californian again, a mother (who struggled mightily with postpartum depression), a photographer, a very popular blogger (dashandbella.com was named for her two children), and most recently a book author.
And while it's not actually in the book, she also became my salad idol.
There are things you can tell just by looking at a salad, and a couple of them are whether the maker even likes salad and whether salad makes them happy.
Grant's salads, some of the lushest most luxurious salads I've ever seen, practically shimmer with salad affection.
"They're my comfort food," she told me recently, after I'd requested a salad for this newsletter. (When she said yes, it felt like I'd asked Mick Jagger to write me a song and he handed over "Beast of Burden.")
Grant learned a lot during her time working in famous NYC kitchens—"by using my senses, by observing, taking it all in. I learned to toss salad with my hands from [Chef] David Bouley—he said you should do it by feel. And he taught me not to add salt to the dressing. Instead, you toss the greens with the dressing and kosher salt at the same time. Or, if you're doing a composed salad, you finish it off with Maldon or fleur de sel.
"But I really didn't learn to cook until I was making three meals a day, every day, for my family."
This, to me, explains some of the allure of Grant's salads: affection seems to be an ingredient.
Grant has been making her super salads for 17 or 18 years. "I used to do tossed salads, but then so many of the good ingredients fall to the bottom in a pile of mush," she told me. So she started thinking about her salads in terms of layers, different components that receive individual attention, which are delicious alone but add up to and inform "a salad that is greater than the sum of its parts." In much the same way that the many phases of our past can benefit the present, make it better. (I do love a salad metaphor.)
Grant told me that when she walks into the kitchen to make a salad, she starts with a dressing in mind. And I've promised myself I'm going to start thinking that way, too. Some of her favorite dressing ingredients are hot honey, crème fraîche or yogurt, citrus, fish sauce, and sherry vinegar (among others); she'll add an egg to dressing for richness, anchovies, and microplaned garlic and lemon zest. She'll also add some of the brine from pickled red onions (I have a recipe for these in DOS Issue #2). And in addition to the microplane and her set of citrus juicers, she mentions Bonne Maman jam jars as one of her favorite salad tools. "They're perfect," she says, because she's a dressing shaker—and they also have a wide mouth in case she wants to use her mini whisk to add an egg.
But it's only in the last few years that Grant started doing her salads on big white sheet pans, so that the ingredients and layers can assert their most vibrant personalities. The salad below is a great example.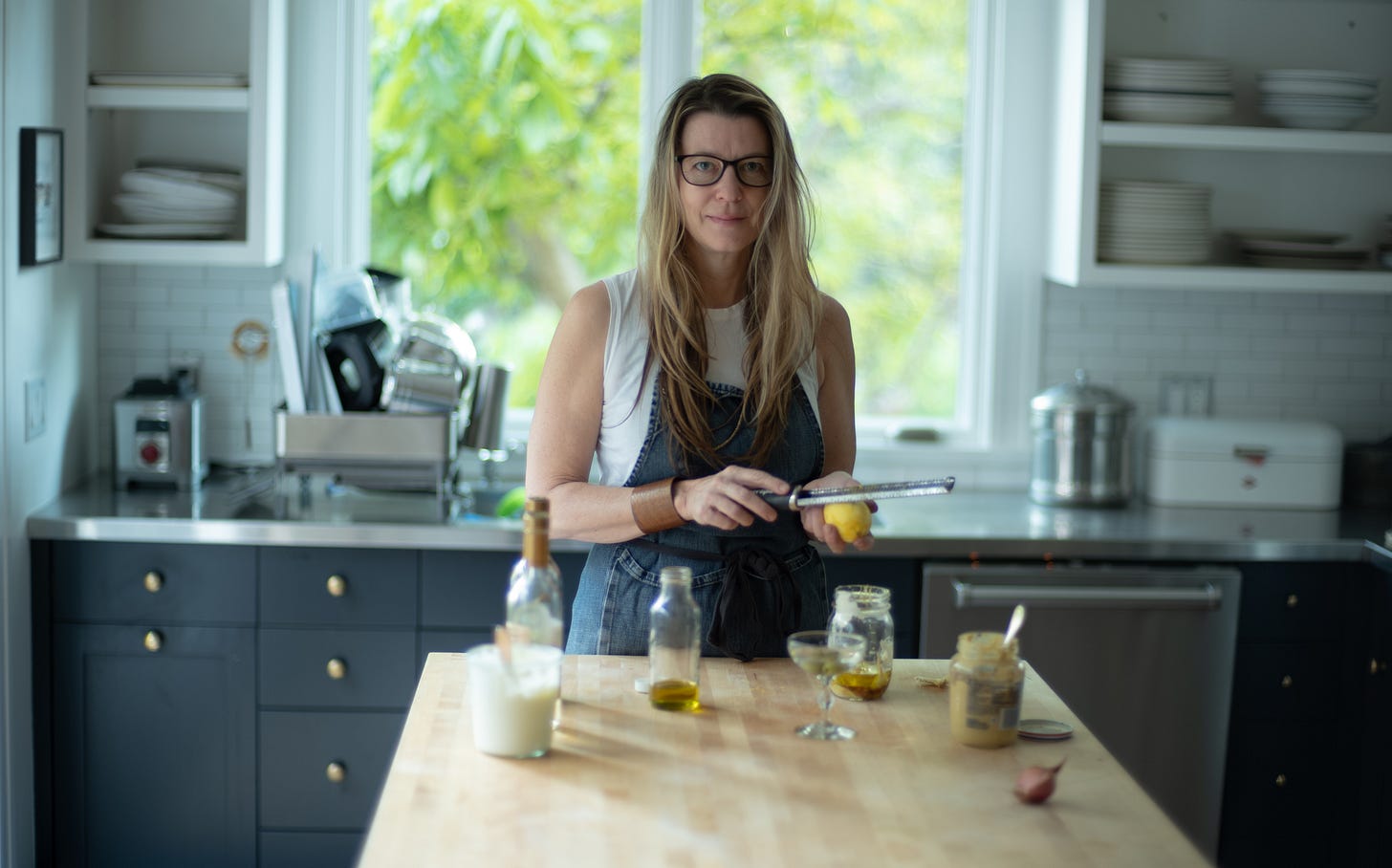 (photo by Matt Ross, for The Los Angeles Times)
*RECIPE: Phyllis Grant's Fall Panzanella (as told by Phyllis Grant)
Panzanella is an Italian bread salad. Classically, it's a summer dish of stale bread tossed with tomatoes, onions, cucumbers, basil, olive oil, vinegar, and salt. But I never really follow the rules.
A few panzanellas I have made in my 50 years:
Heirloom tomato, shallot, garlic confit, cilantro
Watermelon, French feta, pepitas
Grilled peaches, fresh goat cheese, basil
Eggplant, slow-cooked cherry tomatoes, caramelized onions
Tomatoes, watermelon, and peaches create a lot of their own juices when you add vinaigrette and salt. Often, by the end of the meal, the bread is totally soggy. And it's really not appealing the next day. The beauty of a FALL PANZANELLA is that radicchio, squash, potatoes, and sweet potatoes do not release any more juices. So you don't have to be as careful with the timing. You can assemble the fall panzanella an hour or so ahead of dinner. And it's still good the next day. But you need to make sure to add enough VINAIGRETTE and then serve a little extra on the side.
There are many components. You can do most of them throughout the day or even the day before. If you do the croutons a few hours or the day before, store them in a ziploc bag or airtight container to keep them crisp.
Think of the recipe (or collection of recipes) below as a template. You will notice that the croutons have caramelized garlic, the vegetables have crispy shallots, and everything is infused with lots of flavor via the VINAIGRETTE, salt, and pepper.
Ready?
VINAIGRETTE
This recipe makes a lot. You will have some left over. I just added some to my daughter's green bean and butter lettuce salad. It makes a great marinade for chicken. It lasts in the fridge for a few weeks. You can add yogurt or creme fraiche to it. Or pesto. Take it in any direction you want on another day. But for this FALL PANZANELLA recipe, use it just like this.
Whisk or shake the following in a jar until emulsified. Taste. Make sure it's very acidic, a bit salty, subtly sweet, and garlicky. Your tongue will tell you. Just know it should be bigger and brighter and bolder than you think because the flavors always mellow out a bit once combined with the salad components.
1 cup extra-virgin olive oil

⅓ cup sherry, white, or red wine vinegar

⅓ cup lemon juice

2 tablespoons creamy Dijon mustard (I like Grey Poupon)

2 tablespoons honey (hot* if you have it)

2 teaspoons fish sauce (Red Boat is my favorite)

3 large garlic cloves, peeled and microplaned (about 1 tablespoon)

2 teaspoons microplaned lemon zest
GARLIC LEMON OIL
Mix the following and leave it alone for an hour or a day:
¼ cup extra-virgin olive oil

1 teaspoon microplaned lemon zest

1 clove garlic, peeled and microplaned
ROASTED FALL VEGETABLES
¼ cup VINAIGRETTE

2 shallots, thinly sliced (about ¼ cup)

½ winter squash (kabocha or acorn or whatever you can find)

1 sweet potato

2 large Yukon gold potatoes

¼ teaspoon kosher salt

A few turns of fresh pepper

½ teaspoon red pepper flakes (Aleppo if you can find them)
Steam the squash, sweet potato, and potatoes with their skins on. They will cook at different rates so take each one out when a paring knife just slides in without resistance but not until mushy or it will be like baby food. Cool.
Preheat oven to 425°F. Mix sliced shallots with ¼ cup VINAIGRETTE.
Remove skins from the sweet potatoes and potatoes (they should just peel off with your fingers) then cut into about ¾ -inch cubes and place in a medium-size bowl.

Scoop out bite-size pieces of squash with a spoon and add to the bowl. You want about 4 cups total of fall vegetables. But please don't stress about amounts.

Add the shallot-vinaigrette mixture, salt, pepper, and red pepper flakes. Gently mix so the pieces stay intact.

Spread out on a sheet pan. Bake until slightly charred. Toss them once or twice to help them cook evenly. This takes around 30-35 minutes. Cool.
CROUTONS
Bread (enough to make about 4 cups of cubes)

½ teaspoon kosher salt

¼ cup VINAIGRETTE

6 cloves garlic
These have to be motherfucking delicious because they make up 50% of the dish and bland croutons are so sad. You can use fresh bread but you get major points for using up stale scraps. Make sure you use bread with an open crumb bread (air holes/nooks and crannies will soak up VINAIGRETTE). Don't use a brioche or a soft white sandwich bread because they will act like an aggressive sponge and get super soggy (save them for bread pudding or French toast).
Preheat oven to 325°F.

Cut bread into about 1½ -inch cubes until you have around 4 cups. Cut off any super hard crust (leave a little on for flavor). In a bowl, toss the cubed bread with kosher salt and ¼ cup of your already made VINAIGRETTE until well coated but not drenched. Add more if they still seem dry. Peel and then bash the cloves of garlic with the side of a chef knife and toss those in (you want the garlic flat so that they start to caramelize and just cook through by the time the croutons are done).

Spread cubes out on a sheet pan and cook until just starting to brown, about 30-40 minutes (I have found that breads with more whole wheat take longer to crisp up). Toss them around every 10 minutes or so to cook evenly. Keep poking the bread. There is this special moment when the cubes are just starting to crisp up but they're not yet rock hard. Allow them to cool on the sheet pan.
GRILLED RADICCHIO
1 head of radicchio

GARLIC LEMON OIL

Kosher salt and fresh pepper
I don't really grill things. I have a pan with grilling strips on the bottom. But I am just as likely to throw the radicchio into a cast iron pan with virtually the same results. Main thing is super high heat, fast, and a tiny bit of char.
Quarter your radicchio. Remove any funky outer leaves. You can trim down the core a bit but leave enough on to keep the leaves together. Paint all over with your GARLIC LEMON OIL. Get the oil down in between the leaves. Season with salt and pepper. Crank the heat under your pan until smoking. Cook until you get a bit of nice color and the leaves soften a bit (about 2 minutes per side). Cool, cut off the remaining core, and then slice into bite-sized strips.
THE HERBS
4 cups loosely packed parsley, cilantro, basil leaves

1 tablespoon GARLIC LEMON OIL
This is your last step before panzanella assembly. Basil can turn brown very quickly so I toss all of the herbs with GARLIC LEMON OIL before chopping. Chop the herbs coarsely, it's nice to have some flavorful large pieces. You should end up with about 1 ½ cup total.
FALL PANZANELLA ASSEMBLY
If you have a wide and shallow serving bowl, it's easier to distribute the panzanella components more evenly and it just looks prettier. But any bowl will do.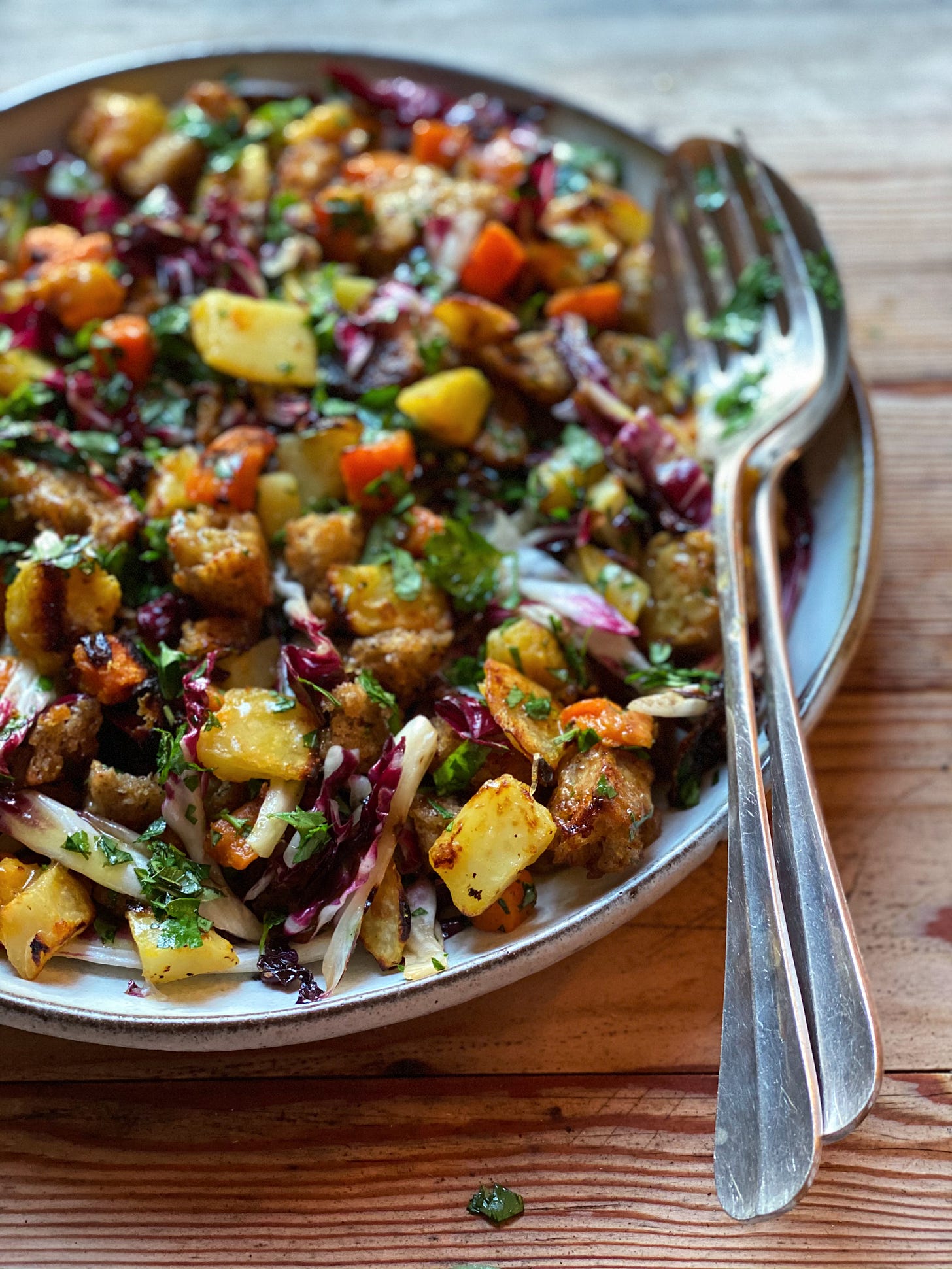 (photo by Phyllis Grant)
Add the croutons, 1 cup of the chopped herbs, the sliced grilled radicchio, and ⅓ cup VINAIGRETTE. Toss to coat (I use my hands so I can feel what's going on). Everything should be glistening with VINAIGRETTE and covered in herbs. Taste. Add more VINAIGRETTE if the croutons taste dry. Again, it depends on your bread here. Whole wheat needs a bit more dressing. White bread needs less.

Add your ROASTED FALL VEGETABLES and another ¼ cup of the herbs. Gently toss. Taste. Since there is salt in every component you might not need to add anymore. But if salt is needed, at this point it's nice to add a coarse finishing salt like fleur de sel or Maldon. Just know that once you add the potatoes, sweet potatoes, and squash you want to do a minimal amount of tossing or you will have mush.

Top with the final ¼ cup of herbs. Eat right away. Serve with a little pitcher of extra VINAIGRETTE.
Leftovers keep beautifully for another day or so. You can refresh it the next day with more dressing, herbs and a poached egg.
*HOT HONEY:
Pour 1 cup of really good honey into a pot. Slice up a spicy chili (jalapeño, serrano, Fresno chile, whatever you can find). Add chili to the honey. Bring to the boil. Turn down to a simmer. Stir. Let it simmer for 30 seconds. Turn off the heat. Leave to cool. Strain out the chili slices (you can save them to chop up and use on eggs, salads, pastas, etc.). Or leave the slices in the honey if you want it spicier. Store in a jar at room temperature up to a month.
Books
I have been long-winded again. Sigh. So I won't have room for the passage I've written about vintage cookbooks and how they treat salad. (Fascinating!) We'll publish that next week, but for now, another great salad cookbook—a 1912 vintage treasure—arrived in my mailbox this week, a sweet gift from a friend. It's full of the kinds of thoughtful recipes that are often missing from cookbooks. The preface captures my salad philosophy perfectly.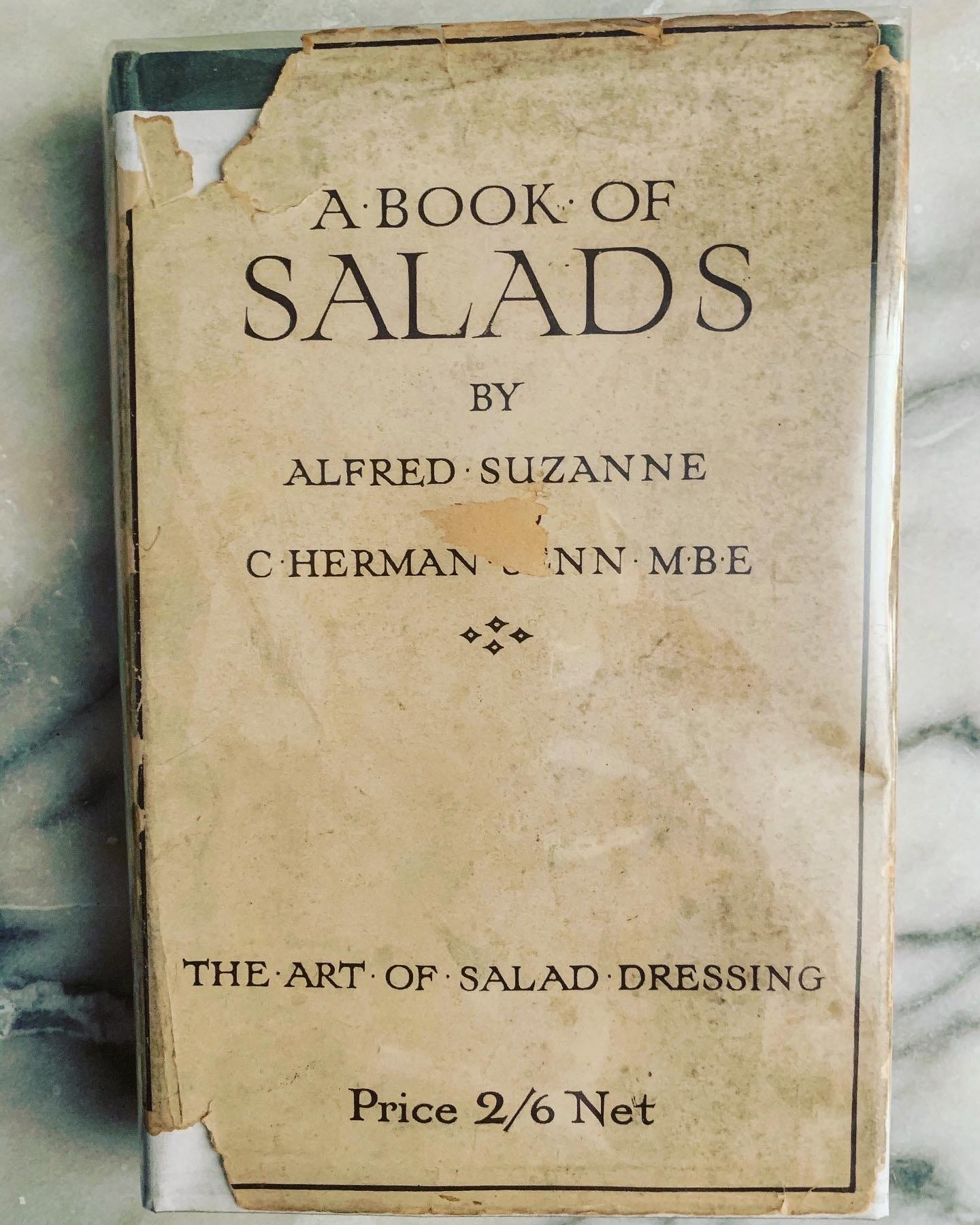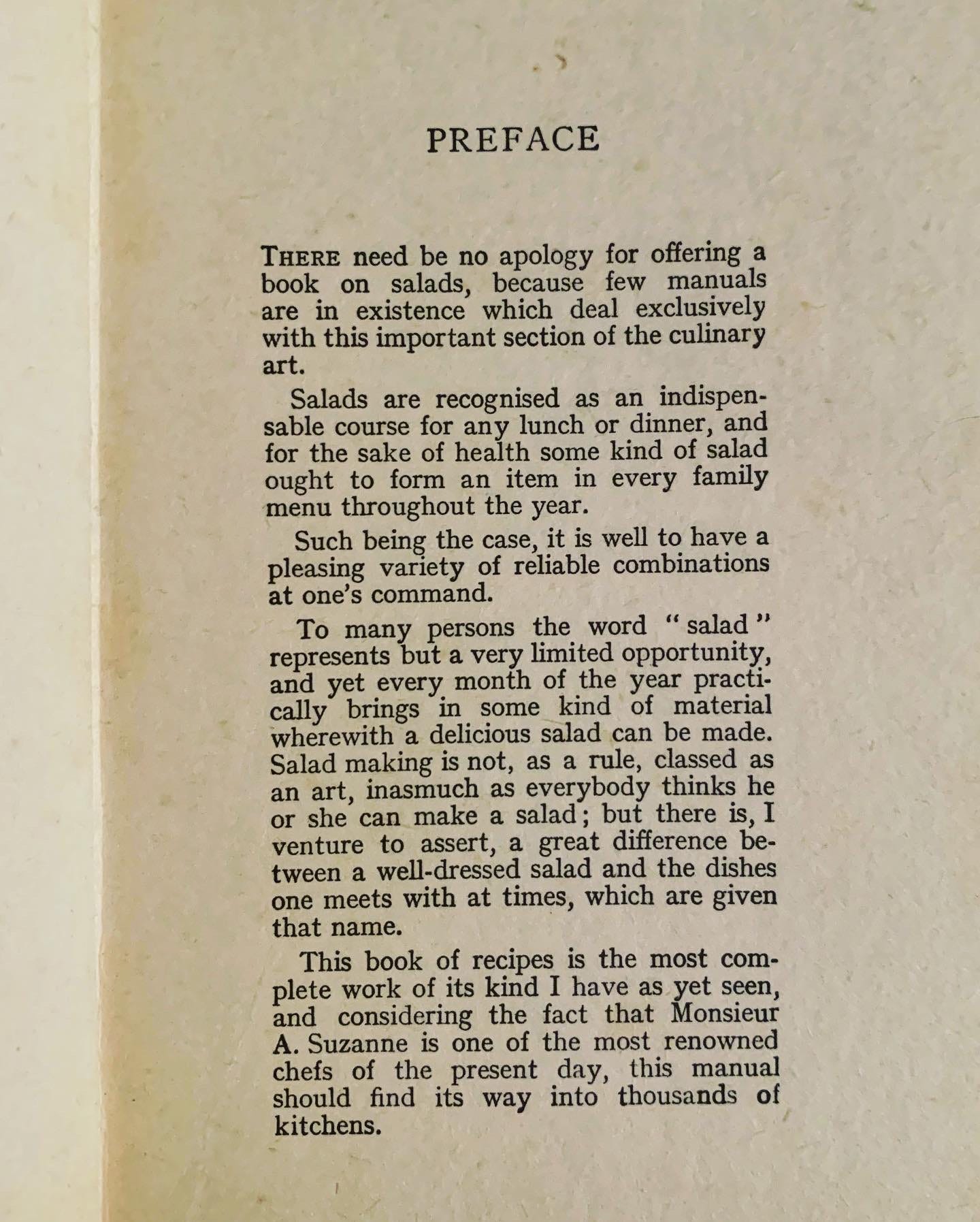 TEST KITCHEN
MY MANDOLINE: LAST WEEK I WROTE ABOUT BEING AFRAID of my mandoline, a razor-sharp device for cutting fruits and vegetables into thin, even slices. It was a fear stoked in part by Martha Stewart and by some of you, who recounted your bloody run-ins with the tool over on Twitter. Thanks a lot for that.
I finally used my $31 low-end Oxo mandoline, which turned out to be less scary than I'd anticipated. However, I did lose a sliver of my left thumbnail right out of the gate. It made me practically jump through the roof—which was rather exhilarating.
And that's the reaction we're all looking for, isn't it, when we buy tools for doing tasks that we can obviously execute on our own? The heady thrill of instantly producing clouds of whipped cream (with a $159 Whip Cream Maker with N20 Cartridges), introducing extra flavor that is better than plain turkey flavor into the Thanksgiving turkey with a $19 syringe-like "Flavor Injector," or manufacturing delicious meat that takes much longer than it normally would and looks like human flesh left out in the sun, by using a $250 sous vide cooker.
We seem to want the magic of making great food without, you know, touching the food much.
How did we get here?
The Pilgrims didn't even have refrigerators! Think about that. They had to salt everything, or dry it, or bury it in the earth, or place it in a stream or over a cold spring, or cook it immediately before the maggots moved in. Like those people on "Colonial House," a 2004 public television show reenacting life at Plymouth Colony in 1628, a couple of whom went out to get grab some stored meat for supper on a warm day and ended up showing viewers what a gag reflex really looks like. No refrigeration! Never mind no Instant Pot for their butter chicken or KitchenAid stand mixer with a dough hook for their daily bread.
I've thought about this topic a lot during my life as a cook—a very guilty, spartan cook who will take the long hard road to making any dish before I will do it the easy way.
I'm still not sure why I resist, or what my exact problem is, but my constant question is this: How much of the kitchen stuff that we buy do we really need in order to make us better, more efficient cooks and how much of it do we buy because we dream that it will somehow make us happier people.
That giant hole in your heart? Throw a $700 Breville Barista espresso maker in there, along with a $180 Smeg citrus juicer, and, what the hell, a 70,000 Sveid custom-made corkscrew. That $5000 Forno Venetzia wood burning pizza oven will practically pay for itself if you eat pizza every day for the rest of your life.
I want to be clear: it's not that I'm un- or anti-materialistic. I'd love to have a ton of expensive kitchen crap. Maybe I'm worried that it's a slippery slope: that once I got the turkey lifter, the waffle maker, the electric gelato churn, the pineapple corer, avocado slicer/pitter, pancake mixer, electric panini press, electric can opener, and the quesadilla maker, I'd forget what it felt like to cook and also I'd have to tear down a wall in my kitchen or move into my storage space. It's already crowded enough in here, and I don't even own a toaster (I bought a $6 folding stovetop toaster, or brustolina).
I've convinced myself that I just like doing things by hand. That chopping and slicing feels good to me.
I mean: just look at this beautiful fruit salad I made, simply by using my regular human-being hands and a chef's knife.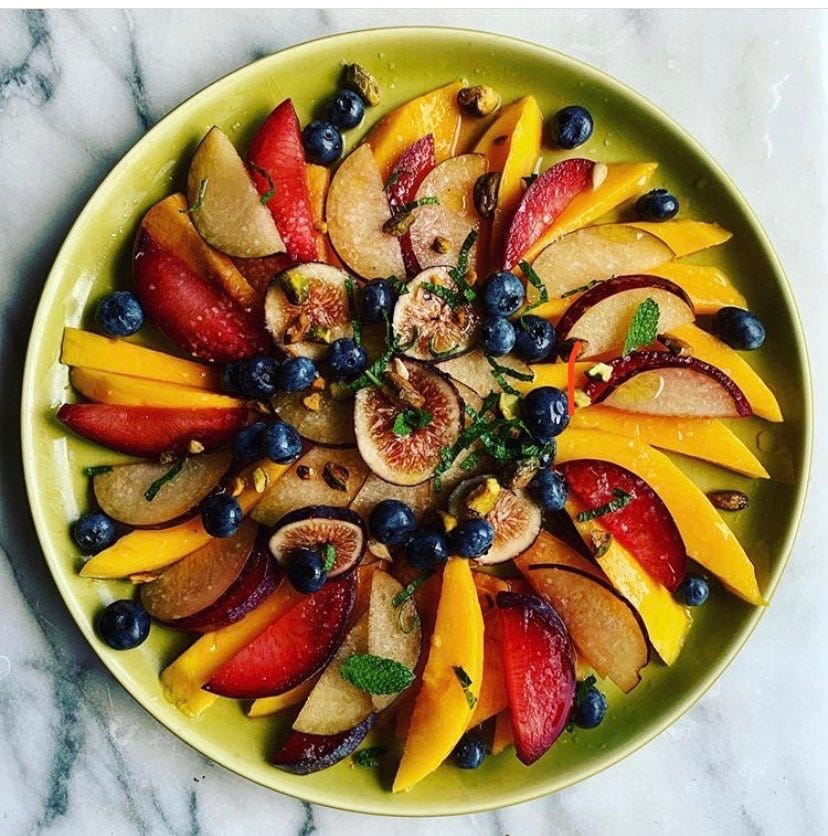 And here's another one of my very favorite quick salads, a thinly sliced mushroom and mint number. Lovely, right?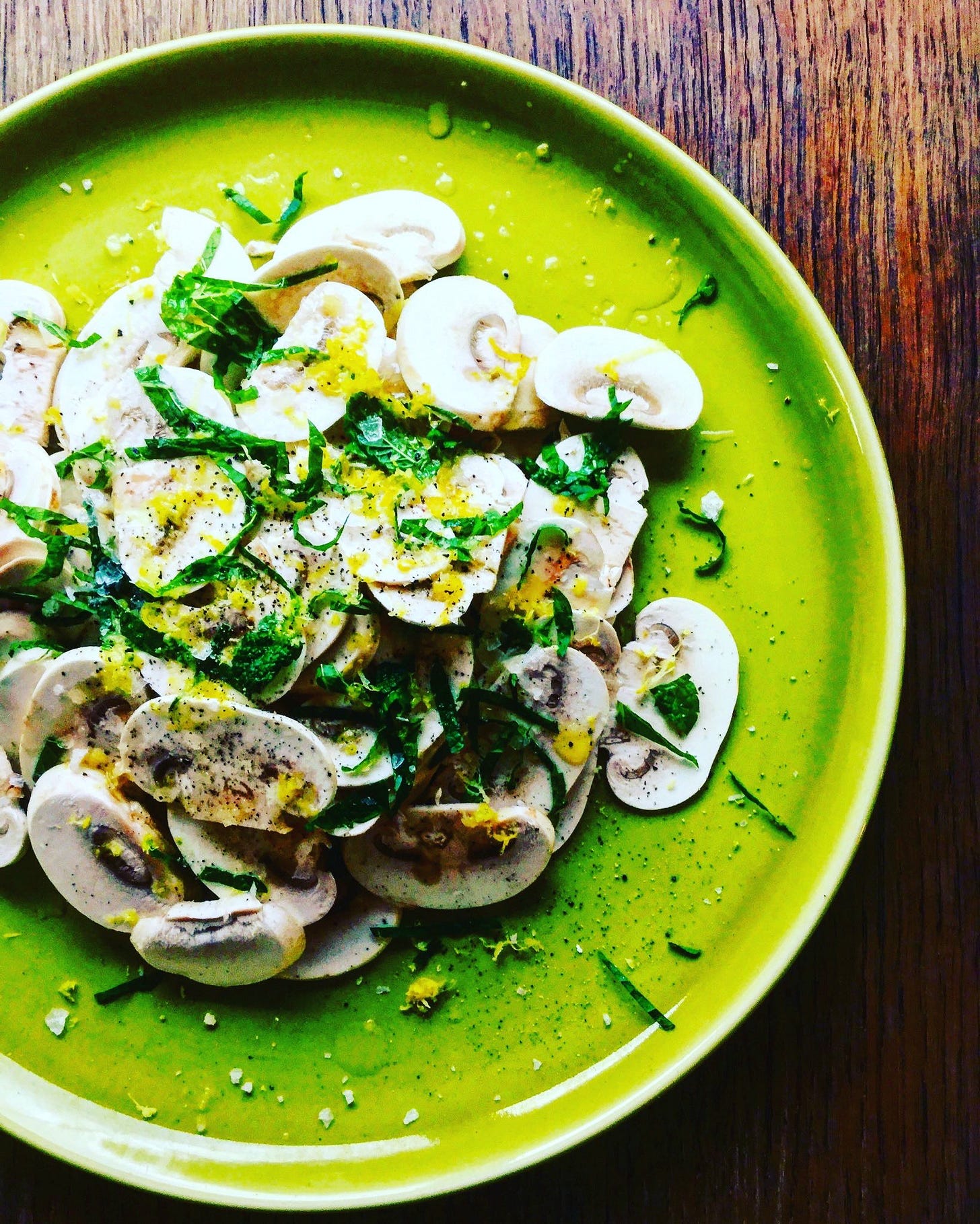 But I bought this mandoline in the name of salad, to make myself a better salad maker, for you. So I employed it. And I'm a bit ashamed to say that once I got the hang of it, the slivers of mushroom seemed progressively more attractive for their gossamer slenderness. And the salad may have tasted more delicious—the slices soaked up the tart dressing with a more delicate uniformity.
I ended up slicing a bunch of vegetables I had in my crisper just for the heck of it and devouring them in a plain garden salad, luxuriating in their specialness.
So, the point here: for the sake of salad, I'm going to try to be a little more open-minded and a lot more frivolous in this department. I'm going over to the Dark Side—or what the rest of the world calls the Land of Simple Convenience.
And I'm taking suggestions for small equipment you might like tested before you purchase it. So leave requests in comments. (No expensive major appliances or super scary ones, please.)
In the meantime, whether you have a mandoline or not, why not try my delicious mushroom salad, which gets a brief soak in lemon juice with a bit of olive oil and is an easy, tonic, delicious wonder. I've made it forever with hand-sliced mushrooms. Is it prettier now? Perhaps.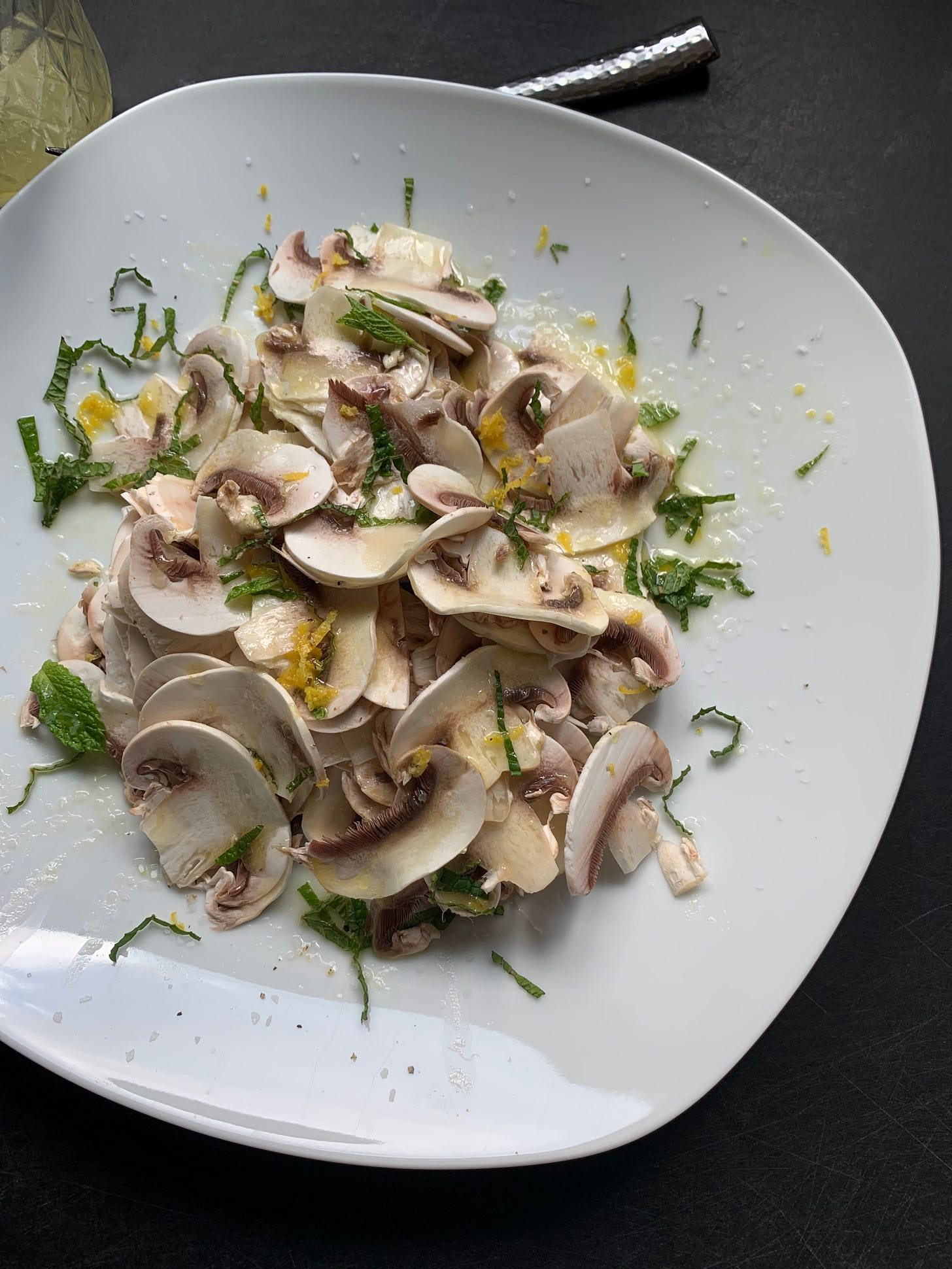 *RECIPE: Emily's Lemon Mint Mushroom Salad
Serves 2
16 ounces white mushrooms, cleaned, trimmed, and thinly sliced

6 tablespoons lemon juice

2 tablespoons olive oil

Salt and pepper

Lemon zest, to taste

12 or so fresh mint leaves, sliced into chiffonade
Make the dressing in a jar by vigorously shaking together the lemon juice, olive oil, and salt and pepper to taste. (You're reversing the 3-1 ratio in favor of acid). Refrigerate until well chilled.

Place the thinly sliced mushrooms on a plate or in a bowl, top with half the mint, and drizzle all over with about ½ of the chilled dressing, gently moving them around a bit for even distribution. Refrigerate for at least half an hour. When ready to serve, taste the salad. Do you want drizzle in more dressing and toss it gently? Do so. Add more mint, too, if you wish (I like a lot). Before serving, shower with lemon zest, salt and pepper to taste and toss gently to prevent bashing the mushrooms to pieces. You can also add thin shavings of Parmigiano Reggiano for a more substantial salad.
*RECIPE: An Ideal Egg Salad
Now that you have my grandmother's easy and delicious blender mayonnaise recipe, from DOS #2, we can talk about egg salad.
I keep saying I'm not going to try to get any of you to like mayonnaise, but obviously I am, and I feel the same way about it that I do about egg salad. Which is: if you make it yourself, you just might change your mind.
For me, the secret to egg salad, even though I love mayo, it not putting too much mayo in it. And not overcooking the eggs: I'll tell you how below.
(Secret: I recently saw a photo Ina Garten's egg salad tartine, which claims to be made from an entire dozen eggs and only 1/3 a cup of mayo. A third of a cup is about 5 tablespoons. But the photo is of a very wet egg salad, that looks like it probably has at least a cup of mayonnaise, possibly added by a stylist to make it. . . juicier? I can't imagine it got that way with just 5 tablespoons of mayo.)
Too much mayo = super-wet egg salad, which disintegrates the yellows and basically gives you chunks of whites floating in drippy yellow liquid. Ew. You may as well make soup.
What you want is just enough mayo to hold the pieces of egg white and yellows together, in mustardy, lemony harmony—with delicious accents like red pepper flakes (I do this), dill (I do this, too), and chives (I don't do this, unless I have no dill).
If you put onions or sweet relish in egg salad, don't tell me about it. I'm not judging. I just don't want to know.
The first time I made egg salad for my cousin (and dear friend) Toni, I boiled a dozen eggs, and she was completely appalled. Like: who's coming over? I was embarrassed, so I'm just using six here, but I always make a ton in private.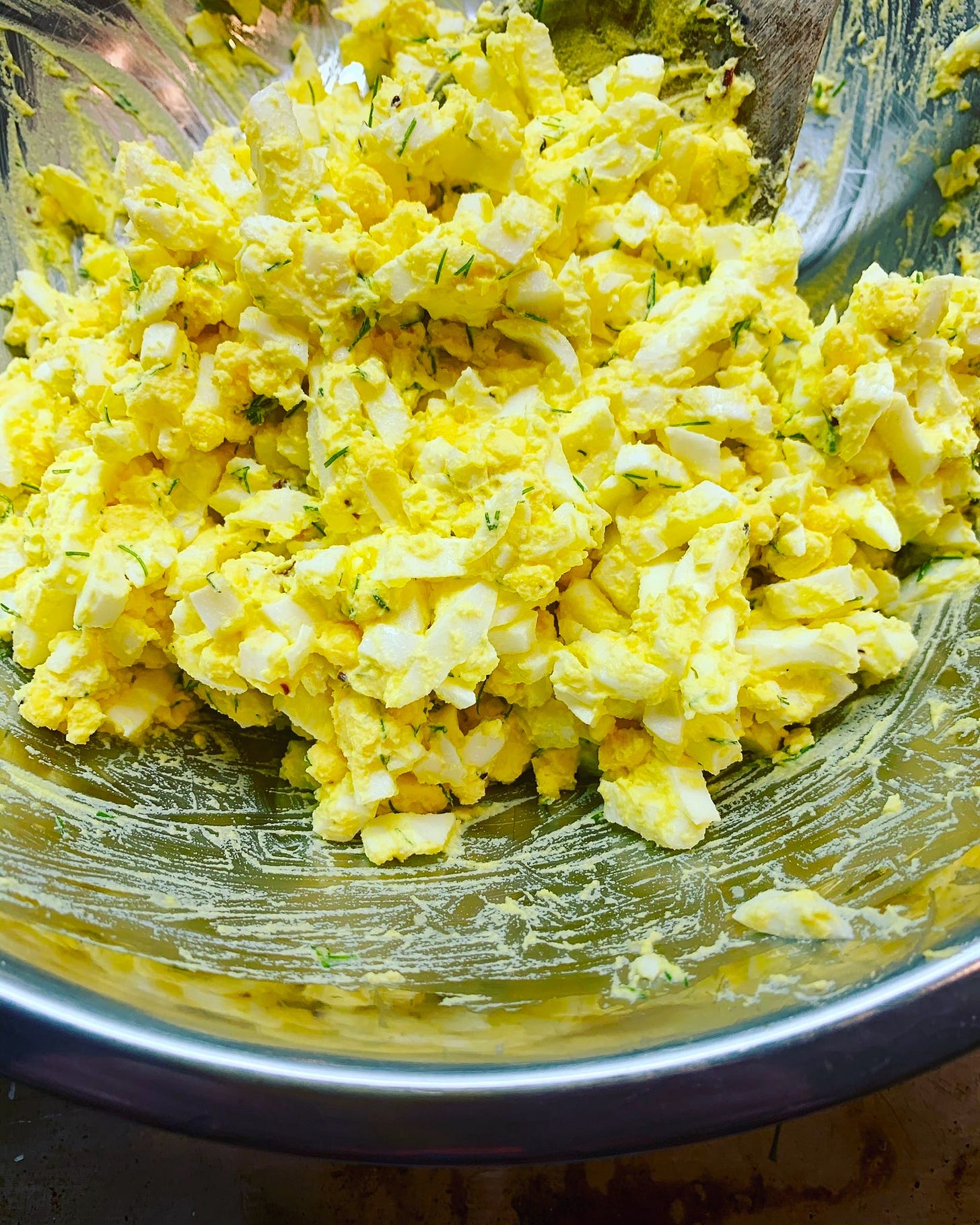 Serves: I have no idea; I'd eat this in 2 sandwiches
6 eggs

1-3 tablespoons homemade mayonnaise

½ to 1 teaspoon Dijon mustard

Lemon juice, just a squeeze

Lemon zest, a pinch, optional

1-2 teaspoons chopped fresh dill

Generous pinch red pepper flakes

Salt and freshly ground pepper to taste
Place six eggs in a pan in cold water to cover by an inch. Bring to a boil. A full roiling boll. Let them cook for sixty seconds. Put a lid on the pan and let sit for ten minutes. Immediately run under ice cold water until completely cool.

I chop my eggs in an egg slicer, first lengthwise then crosswise (you have to hold the sliced egg together and turn it sideways, to make second cut, in case that's not obvious). This is plenty small enough for me. But you can chop them smaller. Just DO NOT chop them into giant chunks. This is a terrible mistake that gives you big bites of white.

After chopping the eggs, place them in a bowl and spoon in about a tablespoon of homemade mayonnaise, one brief squeeze of fresh lemon, a pinch of lemon zest (optional), about a half teaspoon of Dijon mustard. Stir it all together. Is it too dry? I like it that way; I think the mayo should just hold it all together. But if you don't, spoon in a little more mayo, maybe a bit more mustard If you make it really wet and sloppy, don't tell anyone it was my recipe. Add about a teaspoon of chopped fresh dill, a pinch of red pepper flakes. Add salt and pepper to taste. Mix and taste. Adjust. Dill always seems to get stronger to me, so go easy. Stick it in the fridge for at least an hour. The red pepper flakes give it a giant kick that gets stronger, as we all know, so honestly be careful.
I like my egg salad sandwiches open face, on toasted rye or on a toasted bagel.
*RECIPE: A Baked Potato Salad
As I've been thinking more and more about what a salad can be, I recalled something my friend Diane, who'd been a caterer but is now an editor, used to do with a baked potato. Put it in salad. It sounds simple and slightly bleh, but it's really wonderful, especially if you like warm mixed with cold.
Simply bake a potato for each person, butter and salt the way you would if you were going to eat it from the skin (I also added sour cream; bacon would be good, some good grated cheese), break it up, then toss it together still piping hot with whatever large simple green salad you'd like, after it has been dressed with vinaigrette. And eat it right away, with more salt and pepper.
I think Diane then placed the mixture back into the skin in an attractive way, but I ain't doing that. I made it here with some leftover greens, which were not at their peak (but they wilt from the heat, anyway, which is a good thing), a few onions and mushrooms sliced thinly with my new mandoline, and lots that tart lemon dressing. It was so good— definitely cozy comfort food. Plus, I rescued greens I might have otherwise wasted.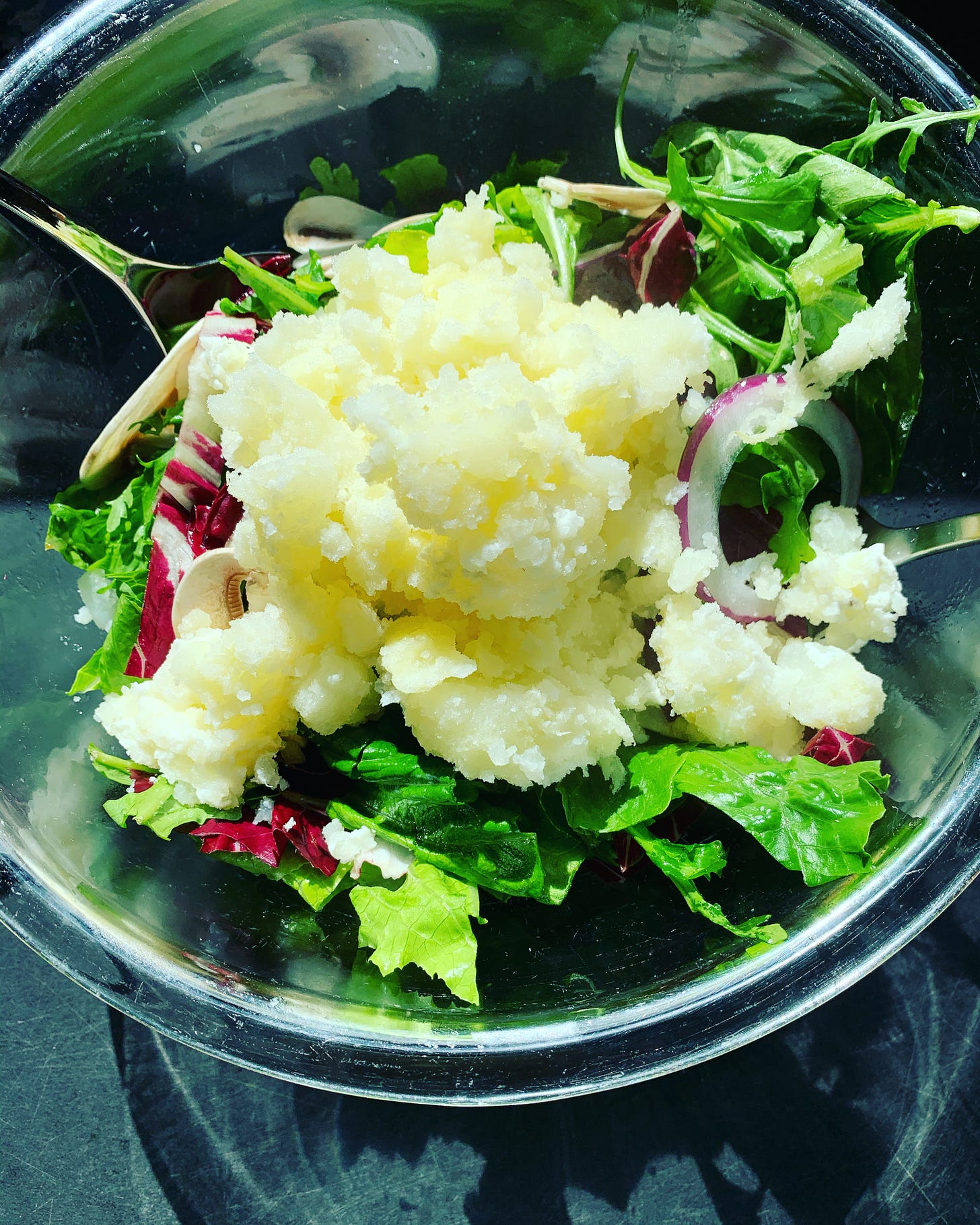 NEXT WEEK Cookbook author, Italian home-cooking teacher, and culinary tour director Domenica Marchetti is bringing us a rice salad that her family ate during summers spent in the Abruzzo region of Italy.
See you then! (Sign up for future issues using the button below)